This is a classic stuffing and I got the recipe from my Granny. She copied it out for me a few years ago, so when I was down at the Farmers' Market and I saw some sausage meat I knew it was that time again.
This is such a simple recipe with great results. I have recently become a little more friendly with my blender. Some might say too friendly. I just can't believe how much easier it makes things. When you have poor circulation in the extremities, the thought of chopping an onion into a billion pieces is not enticing.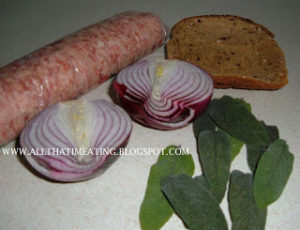 Ingredients
What you will need (for 10 large stuffing balls)
450g sausage meat

1 large onion

Zest and juice 1 lemon

1 slice of stale bread

Sage leaves – as much sage as you feel like

Seasoning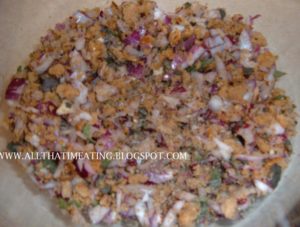 Method
Put everything but the sausage meat into the blender until it is finely chopped. Turn out into a bowl and mix the sausage meat in with your hands. Season and add the lemon zest and juice.
You can leave the sausage meat until you need it. Divide into whatever size you please. I whacked mine in the oven next to my Pigs in Blankets. For those who have not a clue, a pig in a blanket is a sausage wrapped in bacon. Preferably smoked bacon. They are possibly the greatest use of a pig I know of.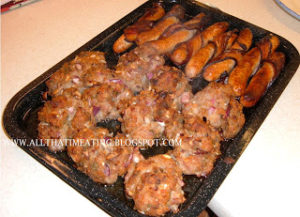 My celebration of pork took about 40 minutes in a medium/hot oven. The lemon lifted it out of what might have been too umami-ish. Fabulous on the side of a roast chicken dinner. Admittedly there was more pork on the plate than chicken. I'm not that keen on chicken anyway…