I can see how some might think I've recently become obsessed with soup. This is not true but it seems the most appropriate thing to slurp in January. One thing I am obsessed with is Jerusalem artichokes.
Despite their unsociable side effects they are one of my absolute favourite vegetables. Unfortunately I can never seem to get my hands on them or they all get snaffled up by abdominally superior individuals before I can get to them. When I can get them though I always do.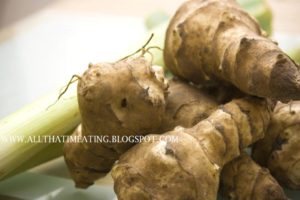 I wrestled for my ugly roots knowing full well they were going to be blended with some leeks. I managed to get 400g of artichokes and 2 leeks. It cost me £1.50. This dish ended up serving four people a light lunch. Bargain.
Ingredients
You will need (for four):
400g Jerusalem artichokes
2 medium leeks
Large knob of butter
2 bay leaves
1 lemon
1 litre chicken or vegetable stock
Salt and pepper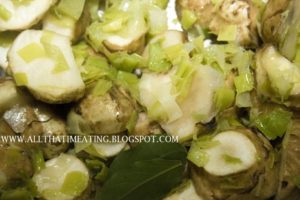 Method
Whatever you do with your artichokes do not peel them. Just give them a quick srub under a running tap and all is fine. Get them cooking quickly as they have a tendency to go brown. I fried my leeks in butter (plenty of it) first to get them soft and then added the artichokes. I threw in 2 bay leaves for good measure and the juice of a lemon.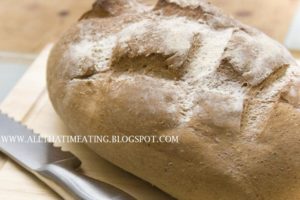 Fry for a few minutes and then add about a litre of chicken or vegetable stock. Leave to simmer until the artichoke is cooked through and then blend. I added a bit of seasoning at this point and checked it before serving. I found that this soup is rather partial to a hefty dose of black pepper; it gives it another level of warmth.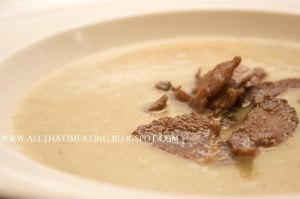 Accidentally the bay leaves got blended with the rest of the soup. I think this was in fact an excellent error and added additional depth of flavour. While it was heating through, I fried the collar bacon until you could snap it clean in half. As the bacon was put into the soup it sizzled and spat which was a very rewarding sight and sound.
It was delectable, subtle, piquant and brash at the same time. It was cheap and cheerful but most importantly scrumptious. This is another vegetable that you absolutely must try and get hold of. You can also eat them raw.