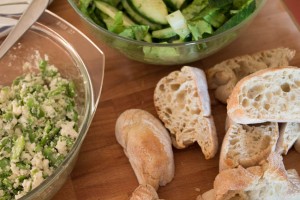 It's all about green beans and peas at the moment and a veg box delivery last week left me with beans coming out of my ears! I wanted to put them on toast to make them go as far as possible so I tried out a broad bean and feta smash. I like the slightly odd bitterness from broad beans and it goes so well with salty feta cheese. The cucumber and dill salad on the side adds real sweetness and freshness to the meal. It's super quick to make too so you won't be stuck in the kitchen when you want to be outside; perfect for summer.
Ingredients
You will need (for two):
Large handful broad beans, podded

100g feta, cubed

Extra virgin olive oil

1 small garlic clove, crushed

Salt and pepper

Small handful mint leaves, finely chopped





1 ciabatta
1 small cucumber, sliced

1 lettuce, shredded

Small handful dill, finely chopped

2 tbsp extra virgin olive oil

2 tsp white wine vinegar

1/2 tsp sugar

Salt and pepper



Method
Start by adding the broad beans to a pan of lightly salted boiling water and cooking them for 3-4 minutes. Drain the beans and rinse under cold water before peeling off the grey skins on the outside.
Put the broad beans into a bowl with the feta, a drizzle of olive oil, the garlic, salt, pepper and mint. Mash it all together so it is slightly combined but still chunky. Put to one side.
Bake the ciabatta according to packet instructions then cut into slices.
Put the cucumber and lettuce into a serving bowl. read more