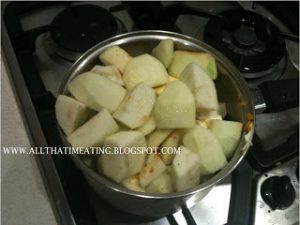 When one suffers from less than optimal circulation in the extremities, they certainly know when the days are shortening and the evenings cooling. To rectify this and to warm the cockles there was only one thing for it. Apple crumble.
Not just any apple crumble but one which I had discussed with my Grandmother just hours before. "Oooh, the other day I saw someone put butter and sugar into the apples for a crumble. It did look nice". I took this little gem as gospel and went crumbling about.
Ingredients
What you will need (for four large servings):
6 to 8 large apples

250g unsalted butter

150g sugar – muscavado or demerara

Dried fruits – a handful of any you want to include
175g flour

75g butter

50g caster sugar

Handful of demerara/muscavado for the top

Flaked almonds – if you want them, as many as you deem fit
Start by putting the apples, unsalted butter and devilishly dark sugar in a pan. Let it bubble and goop away until it reaches the consistency that you think is best. Then mix in any dried fruits that you are using.
Put this mixture in to a suitable oven proof dish and then crumble away. Rub the butter and flour together until you get the texture of fine breadcrumbs. I start by using a knife and then move on to using hands. Stir in the caster sugar and then sprinkle the best bit (crumble) on the top.   read more