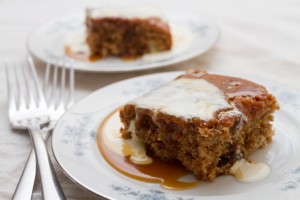 Back in July I was at a food festival and got talking to a company called Baked In. They sell the dried ingredients you need to make a cake, all pre-weighed and ready to go. They asked me if I'd like to give one of their mixes a try, the sticky toffee and date was calling out to me so I grabbed a bag and headed off looking forward to putting on my apron. Since then we have had some very lovely hot weather and baking on a hot day wasn't appealing to me; I'd much rather be outside in the sun. Last week however there was a rainy day last week which was the perfect time to get baking!
Ingredients
You will need (for one finished cake):
1 sticky toffee and date cake mix

1 egg

125g unsalted butter

175ml boiling water
Method
The instructions were really easy to follow and the kit contained everything including a butter measurer, a skewer to test doneness and baking paper. It smells lovely when you open the bag too thanks to the fresh vanilla in the sugar.
You start by greasing and lining a 20cm x 20cm tin and preheating the oven. The pre-weighed dates are mixed with boiling water to soften them. The sugar is mixed with butter before the flour is added. The egg and date mix is added after that. I've not made a cake with that method before but it worked a treat and was really easy to mix up. This goes into the oven for around 30 minutes. read more