After spending my Sunday trying to resist everything I clapped my searching eyes on at my local farmers market, I ended up buying hundreds of carrots. How could I say no to a bunch just picked and two for £1 purple cauliflower? Either way I am now inundated with these sweet orange roots and so I consulted several recipe books and decided a carrot cake was the order of the day. They all asked for different things so I picked out what I thought were the best bits and tried it out.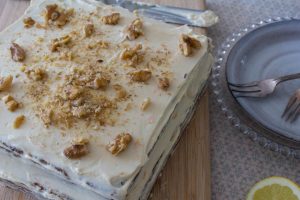 Ingredients
What you will need:
3 eggs
275g self-raising flour
1/2 tsp bicarbonate of soda
1/2 tsp baking powder
a pinch of salt
1/2 tsp ground nutmeg
1 tsp ground cinnamon
200ml mild olive oil
75g dark muscavado sugar
175g light muscavado sugar
150g carrots
juice of one small orange
250g marscapone cheese
200g soft cheese
130g icing sugar
zest of one orange or lemon
walnuts for the top
Method
This cake made such a mess. Pieces of carrot went everywhere – I'll be finding them for weeks. Anyway, butter two cake tins – in this case more butter is better. When you think you've reached levels of disgusting, smear more butter over the tins. Separate the eggs and then sift together; flour, bicarb, baking powder, salt and spices in a separate bowl. Pre-grate your carrots.
In a food blender, combine the oil and sugars. It takes some time and you'll need to be around to coax the side spatterings back into the mix. When it's looking like you could build a brick wall with it, chuck the egg yolks in one at a time. It looks less scary now. Slowly add the carrot into the mixture and the orange juice.
Turn your mixer to its slowest setting and spoon the flour mix in spoon by spoon. When you turn it off the mixture makes lots of bubbles and almost looks alive.
I spooned my carrot mix into a bowl and then swiftly beat my egg whites into stiff peaks. I won't pretend I did it by hand, it was 9.30pm.
Lovingly and carefully I folded these two together. It took a little while but it's a nice thing to do and was so worth it.
Into the hideously calorific cake tins my mix went and then into a preheated oven at 180C. Forty minuted later I was proud as proud can be.
While they are cooling, make the icing. Mix together the cheeses, sugar and zest until it looks like bathroom sealant. It might even be waterproof actually but I shan't be trying it.
Sandwich the two halves together with some of the icing. I was too much of an eager beaver and subsequently tried to sandwich too early and my icing sort of melted. I tried to make the icing look nice but I'm cack handed and was hungry. Put the rest of the icing on the top and then the walnuts. Ready to eat.
There was an awful moment where I thought the whole top half was about to fall on the floor because my insides had melted so furiously but, being quick witted (more likely luck), I managed to prevent the crisis.
I made this last night. It's now gone.
All That I'm Eating