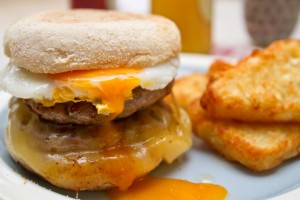 What's your guilty pleasure? I have to confess I very much enjoy a particular sausage, cheese and egg muffin from a well known fast food restaurant. I know, shameful. However I am admitting it now as part of trying to cleanse my system. I liked the idea behind the aforementioned muffin; a sausage and egg sandwich really. In order to still enjoy this behemoth breakfast (without the guilt) I needed to try and make my own version. Not only was I going to attempt to fill my guilty pleasure gap I was going to improve on the original.
Ingredients
You will need (for two):
4 cumberland burgers

2 eggs

2 thick slices of mild cheddar cheese

2 muffins
Method
I was lucky to be able to get these cumberland burgers from the farmers' market and without them it wouldn't have been the same. I reckon you could make cumberland burgers if you can't get them by squeezing the sausage meat out of some nice sausages and making burger shapes.
Start by frying the burgers until brown on the outside and cooked through. Meanwhile get another pan on the heat to fry the egg in. I fried my egg inside an upside down pastry cutter so it was the same size as the muffin. Maybe a bit unnecessary but I didn't want odd shaped egg white hanging out of my muffin; it would have ruined the effect! When the egg is almost ready and the yolk still gooey get the muffins toasting. read more