One of my favourite things to do in winter is to get outside early, ideally before sunrise, and drink in that crisp cold air. If I'm lucky there'll be a few birds jumping around on the frosty floor here and there and I'll wander up the hill to see the sun spread over the pale morning sky. There's nothing like it. Usually I'll only get to do this at the weekend and during the walk I have time to think about which of my favourite winter recipes to cook up.
Winter in my kitchen sees a change in the cupboards and fridge. There are oranges, tangerines and satsumas falling out of the fruit bowl, nuts in the cupboards and green leafy veg aplenty. We're eating thickly sliced toast slathered in butter and topped with locally made jam to remember the summer fruits, cheap cuts of meat are simmering in the oven in a rich gravy and from time to time we'll have a thick hot chocolate in front of the wood burner while we warm up our toes.
There's so much to look forward to in the winter months; from knobbly celeriac to flavourful cauliflower and plenty of room and time for chocolate treats as we get further into December. Here are some of my favourite winter recipes that I'll definitely be cooking up over the next few months.
It won't be long before the blood oranges start to appear and apart from looking amazing I love the flavour of them too. A really simple dessert to try is Blood Orange Posset which has a perfect balance of citrus and cream. Another pudding which I loved baking is my Blood Orange Tart as it looks wonderful and tastes divine.
If you're after some homemade food gifts to make this year both of these recipes have gone down really well whenever I've made them. My Cranberry and Pistachio Chocolate Truffles are so pretty when they're all boxed up and these Hot Chocolate Gifts are so fun to make! The mixture of ingredients used makes a truly indulgent, thick hot chocolate.
I know I get a real craving for citrus flavours over winter; lemons, limes, grapefruit you name it. To combat my citrus needs I often turn to a simple hot water and lemon, but when that won't quite cut the mustard then I have a few recipes to call on. My Upside Down Lime Cake was a bit of an experiment but those caramelised slices of lime are absolutely delicious and the lime flavour soaks right through the cake. This Citrus Carpaccio with Champagne Sabayon is a plate of pure prettiness and if you've not tried making a sabayon before it's easier than you might think.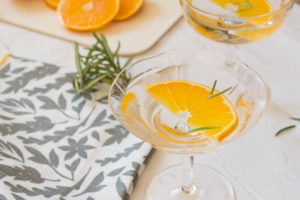 One cocktail that I particularly enjoy over winter is an Orange and Rosemary Martini. The simplicity of the flavours and the herby rosemary make such a refreshing drink.
Cooking up comfort food seems to be standard practice in my kitchen over the winter months and there's pasta bakes, slow cooks and cheese laden dishes aplenty. One dish I particularly like to cook up is my Fennel and Sausage Ragu; I don't know what it is about fennel but it never fails to add something special to a dish. You can't go wrong with stew and dumplings, especially on a cold day, and adding a little horseradish to these dumplings takes them to another level: Beef Stew with Horseradish Dumplings.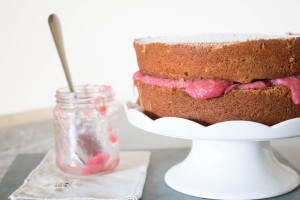 On a rainy day I love to get baking something in the kitchen, something that takes a little more time or effort than usual. My Kanelbullar were inspired by a trip to Sweden, made with wholemeal flour and lots of cinnamon they are fantastic straight from the oven. These Smoked Cheddar and Pickled Onion Turnovers I particularly like because they a great for using up a bit of cheese and some pickled onions! When it's time for rhubarb I like to cook it up in batches and keep some in the fridge for adding to lots of things and it works especially well in my Victoria Sponge with Rhubarb Compote.
I can't post this without mentioning two other bakes: one is probably the most indulgent thing I have ever baked and the other is fantastically festive and how I like to start my days in December. My Zillionaire's Shortbread is layers of shortbread, salted caramel, dulce de leche and chocolate. It's five layers of absolute heaven. Then, my Mince Pie Fruit Loaf has all the flavour of mince pies and makes wonderful toast.
I can't wait for the first cauliflower cheese, dauphinoise potatoes and living off leftovers. And if you think you'll ever catch me with marzipan in the kitchen, think again. What are you looking forward to cooking up this winter?