You know the feeling. When you get home from work, you're tired and don't want to stand around in the kitchen getting dinner ready. This feeling is magnified if it happens to be raining and/or you have a cold at the same time. Part of you wants to pick up the phone and get a takeaway but part of you knows that you really should cook something, especially if you already have all the ingredients. I have found a secret way to get round this and it relies on two things: firstly, that you can call upon your favourite quick recipes and secondly, the moment you start to chop the ingredients you're committed. Once you've picked up that knife and sliced through that onion you've started dinner and suddenly, even on the worst days, it's not such a mountain to climb.
I wanted to share my favourite quick recipes as they have been invaluable for me and on a busy weeknight are just the perfect thing to cook and take away any temptation of the takeaway. All these recipes are ready in under 30 minutes, create minimum washing up and are easy to cook. I just need to make sure I get that onion chopped before the OH catches my eye and both sets of eyes move towards the paper menus.
Smoked Chicken Caesar Salad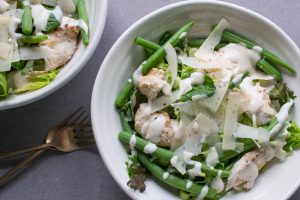 I do cheat a little with my take on a Caesar Salad and use a good quality ready made dressing. Adding a handful of green beans turns the salad into something a little more substantial and it's delicious if you stir through some steamed potatoes. Also good served with crusty bread and it really is worth searching out some smoked chicken for this recipe.
Roasted Aubergine and Tomato Pasta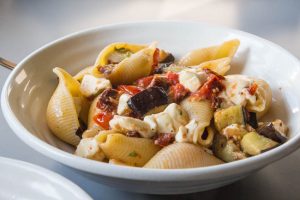 The reason I love this aubergine and tomato recipe so much is because everything roasts in the oven together, you just need to chop, drizzle, roast and then pop the pasta on. Mozzarella is my cheese of choice for this but a little mascarpone or ricotta stirred through would be great too.
Chipotle Sweetcorn Hash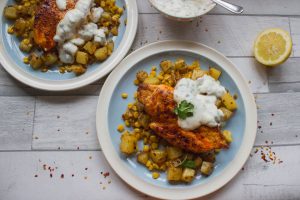 This is a two pan dinner and it's so worth it for a bit of spice, smoke and sweet midweek. The chipotle sweetcorn hash makes up the base of the dish and you could top it with all sorts of things; chicken, steak, tofu, roasted cauliflower or stir some leftovers into the mix.
Olive and Fontina Baked Courgettes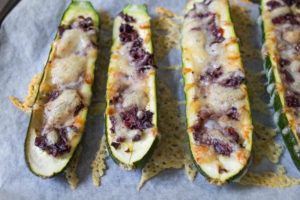 Perfect served alongside all your leftovers on a Friday night, these olive and fontina stuffed courgettes are so good served with a few olives, salad leaves, bread and whatever else you have left at the end of the week. Fontina is such a great cheese for this but there are alternatives you can use over on the recipe.
Miso Glazed Aubergine with Pickled Cucumber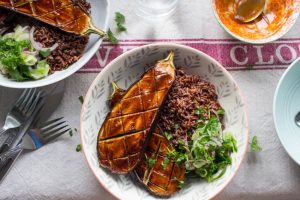 I love anything with aubergine and when they're glazed with miso they make such a great veggie dinner. The red rice takes a little longer than other rice to cook but you can always use brown or wild if you prefer. And when I say 'quick' pickled cucumber, I really do mean quick!
Harissa Lamb with Tabbouleh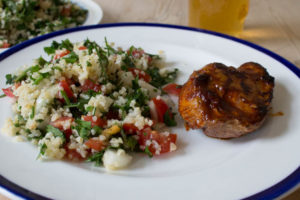 Tabbouleh is something I turn to often, especially if I have leftover herbs in the fridge. The marinade for the harissa lamb is so simple and would work on plenty of other things (chicken, tofu, veg, fish) for a bit of variety.
I have a certain air of smugness after I have eaten the home cooked meal and not caved in! What are your favourite recipes that are ready in a flash?