It's always nice to see some bright pink rhubarb poking its head out at the market but as it's the first of the season it can be quite pricey. So when you have only £1.80, what can you do with two rhubarb sticks? Make a lovely, vibrant rhubarb compote/jam to sandwich in the middle of two fat slices of cake of course. Other things that you can do with two sticks of rhubarb include: jousting, a spot of relay running or making a parasol (if you have the leaves left on) but none of those would be anywhere near as good as this cake.
Ingredients
You will need:
2 x 18cm sandwich tins, bottom lined with baking paper and greased

4 large eggs

Self raising flour

Sugar

Butter





2 sticks of rhubarb

1 tbsp water

1-2 tbsp sugar

1 tsp vanilla paste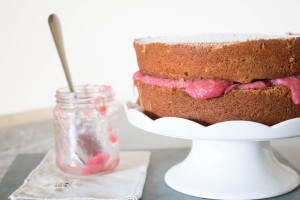 Method
Weigh the eggs (in their shells) then weigh the flour, butter and sugar to the same weight. I ended up with 250g of each. 
Preheat an oven to 180C. 
Cream the butter and sugar together until light and fluffy; it always takes longer than I think it will.
Add the eggs to the butter and sugar one at a time adding flour if it looks like it might curdle and mix each egg in well before adding the next. 
Fold in the remaining flour.
Divide the mixture between the two tins then put into the oven for 30-35 minutes or until risen, golden brown and cooked.
Cut the rhubarb into inch sizes pieces then add to a small saucepan with the water, sugar and vanilla paste. Heat gently until the rhubarb breaks down then boil the mixture down until it's nice and thick. 
Wait for the cake and compote to cool down before sandwiching them together and dusting with icing sugar if liked.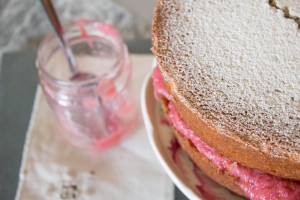 You may notice a crack in the top of my cake. I can assure you I was most upset when this happened as I picked it up to manoeuvre it into its final position. I tried my best to disguise it with icing sugar. Either way, crack or no crack, this was a brilliant cake and combination of flavours; sweet, warm cake and sharp vanillary rhubarb. I loved that the rhubarb retained its fresh, pink colour too. What better way to welcome in the rhubarb season, or as I like to call it the tantalisingly close taste of spring.