There's something you need to know about these turnovers. Although they are most excellent for using up leftovers they are more than worth baking up in their own right. Am I the only one who couldn't say no if offered Smoked Cheddar and Pickled Onion Turnovers? Didn't think so. Perfect for using up roast or mashed potatoes, pickled onions or chutneys and whatever hunk of cheese you have lying around. Completely versatile and a little bit too tasty to believe you can knock them up out of some odds and ends.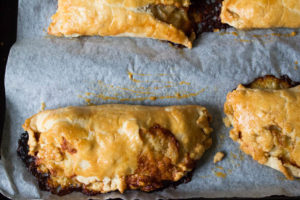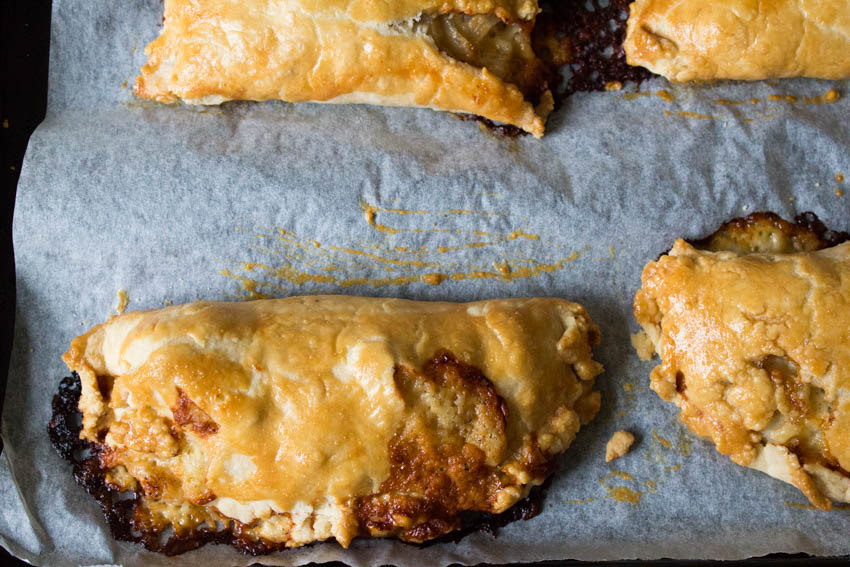 Ingredients
You will need (for four turnovers):
For the pastry
100g butter, frozen
200g plain flour
Few tbsp cold water
Salt
1 egg, beaten (for brushing)
For the filling
1 medium potato, peeled and chopped into small cubes
4 small/medium pickled onions, sliced
125g smoked cheddar, grated
Salt and pepper
50ml double cream
Method
The recipe below is as if you were making them completely from scratch. You can of course skip the potato cooking part if you have leftover potatoes.
This method for pastry is such a quick and easy way of making some delicate flaky pastry. Well worth a try.
Grate the butter into the flour then work the butter through the flour until you have breadcrumbs. This will be quite quick to do thanks to grating the butter in.
Add a few spoons of cold water to the flour mix to bring the pastry together. Knead the dough quickly then refrigerate for around half an hour.
While the pastry is chilling cook the potato in salted boiling water for 5-7 minutes until cooked. Drain the potatoes then leave to cool.
Mix the potatoes, sliced onions, cheese and cream with a little salt and plenty of pepper.
Remove the pastry from the fridge and divide into four. Roll each piece out on a floured surface until roughly the size of a side plate.
Divide the cheese mix between the pastry and pile it up across the middle. Brush a little egg onto one side of the pastry then fold the pastry over to encase the filling and press the two sides together.
Place the turnovers onto greaseproof paper and brush with extra egg. Make a little hole in the top of each one.
Bake in a preheated oven at 180C for 40-45 minutes.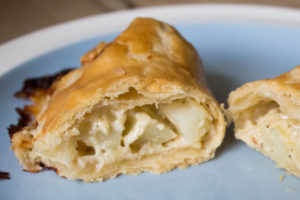 I would go so far as to say I achieved some layers in that pastry and there wasn't a soggy bottom in sight. This is all of my favourite things wrapped up in pastry: sweet and sharp pickled onions, smoky and salty Cheddar and the potato and cream marry everything together like a little parcel of perfection. I love how rustic they look after baking with bits of cheese bubbling out all over the top. I made just four of these; you'd be wise to make at least double that.