I can find it hard to know what to give people for gifts. When I'm not sure I normally cook or make something for them instead; it's personal and I quite enjoy doing it. This is the other recipe that I developed for Kenwood (see crumble here) and I think they look a bit like Brussels sprouts if you stand far enough away (and squint). My recipe for Cranberry and Pistachio Chocolate Truffles is really simple and I find I usually have these ingredients in the cupboard at this time of year.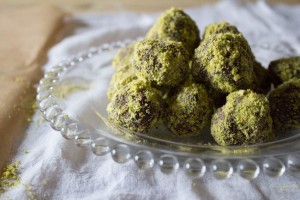 Ingredients
You will need (to make at least 12-15 truffles):
150g good quality dark chocolate (70%)
150ml double cream
25g dried cranberries, roughly chopped
75g shelled pistachios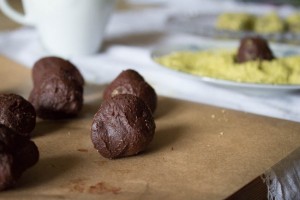 Method
Break the chocolate into pieces and add to the bowl of your mixer.
Heat the cream in a pan until almost boiling.
Turn the mixer on to a low speed then pour the hot cream over the chocolate. Turn the mixer speed up a litter for a few seconds to thoroughly mix in all the chocolate. If you need to, scrape down the sides of the bowl to make sure all the chocolate melts.
When it looks well combined, add the chopped cranberries then give it all one final mix before pouring into a bowl and putting in the fridge to set.
Blend the pistachios in a food processor to a fine crumb.
When the truffle mixture has set (at least 30 minutes in the fridge) spoon out the mix into portions then roll into a ball with your hands. Roll each truffle in the crumbled pistachios.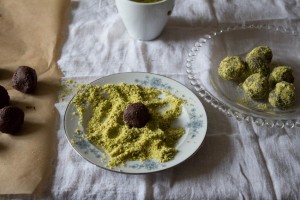 Rolling the truffles is really therapeutic but you will get chocolately hands so don't say I didn't warn you! I hope you enjoyed watching the film that goes with making these. Using the mixer for this means the truffles cool down a bit quicker so if you're in a trifle of a truffle rush and need some quick it can help speed it up. The dark chocolate is so good with the sweet, sharp cranberries and the crumbled pistachios aren't just for looks, they give a great flavour and crunch too.
Thank you to Kenwood for my Chef Sense Mixer and for the days filming. All opinions and words are my own. 
Thank you for supporting the brands that support me.