I made this stew on New Year's Day. I can't think of many things as warming and comforting as a big bowl of slow cooked food. My beef stew with horseradish dumplings was made up of almost everything I had leftover in my fridge and cupboards; happily simmered away with some beef shin. A delicious, make-the-most-of-everything, homely stew for four people. Trust me on the ingredients; one or two may sound a little out of place but they really add to the dish.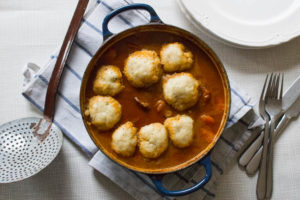 Ingredients
You will need (for four):
700g diced beef shin, or other stewing beef
2 tbsp plain flour
Salt and pepper
Oil for cooking
2 large carrots, peeled and chopped
2 onions, peeled and sliced
7-8 small mushrooms, quartered
2 large tomatoes, quartered
Small handful pitted olives (I used green)
330ml beer (I used Anchor Steam)
170ml beef stock
For the dumplings
120g self raising flour
Pinch salt
50g suet
1 tbsp horseradish sauce
Leaves from two thyme sprigs
Cold water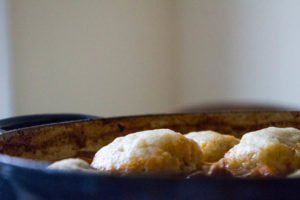 Method
Start by putting the flour into a bowl with a good sprinkle of salt and pepper. Mix the beef into the flour so it is all coated.
Get a casserole dish onto a medium-high heat on the hob. Add a little oil and fry the beef until browned. Remove and set aside. You will need to fry the beef in two batches so that it fries properly.
Add a little more oil to the pan and tip in the onions, carrots and mushrooms. Leave to soften for 10-15 minutes, scraping up any sticky bits from the bottom of the pan.
Tip the beef back into the pan with the tomatoes and olives then pour over the beer and beef stock. Bring to a boil.
Once the pan has boiled put the stew into an oven at 160C for two hours.
After an hour and a half make the dumplings. Rub the flour and suet together to make a breadcrumb texture. Add the salt, thyme and horseradish and mix together then add drops of water, a little at a time, to bring the mix together to form a dough.
Divide the dough into eight pieces. Get the stew out of the oven and pop the dumplings on top then return everything to the oven for the last twenty minutes.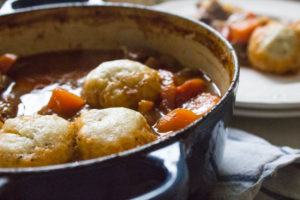 I like to add tomatoes to stews I make as it gives a lovely sweetness to the whole dish. Onions, carrots and mushrooms are a classic backbone for any stew and after two hours the beef really is melt in the mouth. Adding a handful of olives gives a fantastic savoury twang and the beer and beef stock gravy that is created is nothing short of delicious. Top that off with a faint note of horseradish and fresh, earthy thyme. Just the ticket. Oh, and if you make the full amount but there's only two of you it makes brilliant keptovers topped with a cloud of mashed potato and baked.