From time to time I get a recipe stuck in my head and I can think of nothing else until I make it. These sticky soy and chilli chicken thighs are exactly one of those recipes. There were several criteria that these thighs had to fulfil and anything short of my imagined flavour would not suffice. Most importantly they had to be sticky; properly glazed so that they left trails of marinade on the plate. Secondly, they had to have a salty soy base and a little chilli kick. The ginger, garlic, lime, onion and sesame were all added for depth of flavour. They were everything I wanted them to be.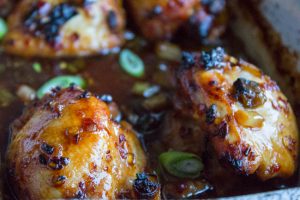 ingredients
You will need (for two):
4 boneless, skinless chicken thighs
2 tbsp soy sauce (I used a low salt one)
1 tsp sesame oil
Juice 1 lime
2 tbsp honey
2 garlic cloves, crushed
1 small piece ginger, around the size of a thumbnail, grated
Pinch dried chillies
2-3 spring onions, sliced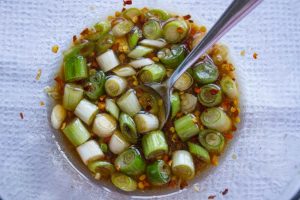 method
Mix all the ingredients together except the chicken to make the marinade.
Put the chicken thighs into a roasting dish and pour over the marinade. Really mix the chicken and marinade together making sure you get some inside, over and under the thighs.
Put in the fridge to marinate for around an hour, longer if possible, but a shorter time wouldn't be the end of the world.
Preheat an oven to 200C. Put the chicken into the oven with all the marinade and roast for 20 minutes. Remove from the oven, baste the chicken and return to the oven for another 20 minutes. Check the chicken is cooked through after 40 minutes total roasting time.
I served these sticky chicken thighs with a noodle salad full of fresh herbs.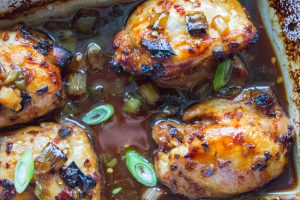 Combining honey and soy together means you can't go far wrong with a salty, sweet and sticky end result. The thing I love about roasting the chicken rather than frying it is that the chicken and marinade cook into each other and you're left with a thick, unctuous sauce which is just asking to be spooned over the chicken. It would be delicious on the BBQ, you'd need to baste it often, and I think it would work really well with tofu too. This is my kind of comfort food. I can imagine a cold evening where I roast these, simply serve them with a bowl of white rice and let the leftover marinade mingle with the rice.