I'll stick a herb in pretty much anything and adding or infusing herbs in drinks or cocktails is always delicious. My Orange and Rosemary Martini is particularly excellent for two reasons: first, it uses those fantastic big oranges that you can get at this time of year and second, that faint hint of rosemary is so distinctive it makes for a really refreshing martini. It looks inviting, it's easy to make and the flavours take the edge of a plain martini (which I can find a bit harsh). This would work really well with leftover rosemary in the back of the fridge, or those sprigs you popped in the freezer. However you make it, and you should, make sure you've got a nice comfy chair and a book ready and waiting.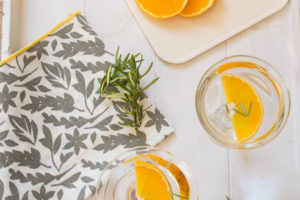 Ingredients
You will need (for one martini):
80ml chilled gin
20ml chilled vermouth
1 sprig rosemary
1 orange, sliced
Ice cubes
Method
Lightly crush the rosemary in a glass, to release the oils, then pour in the gin. Return to the fridge for around half an hour to chill.
Fill a glass, or cocktail shaker, with ice cubes then strain the gin into the glass and add the vermouth.
Shake or stir as you see fit.
Run a slice of orange around the rim of a serving glass then strain the martini into the same glass.
Top with a few sprigs of rosemary and a slice of orange.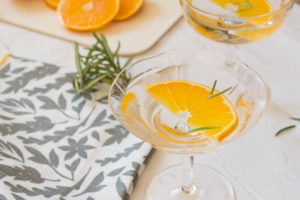 Using different gins and vermouths will of course alter the flavour of your finished drink. The rosemary is so earthy, it's just a little hint that you get from using it, but it's so worth it. If you wanted a stronger flavour you could leave it to infuse with the gin for longer or use more rosemary. As lemon is such a classic with a martini the progression to orange seems logical and the little bit of sweetness from the orange really does take the edge off the harshness.