I love a mince pie, but they have to be just right. I want the pastry to mince filling ratio to be almost 50:50; too much filling and you can forget it. Preferably my mince pies will be warm and covered in (clotted, ideally) cream. However, I can't possibly eat that every single day and I still need my mince pie fix. This is how my Mince Pie Fruit Loaf came about; designed to have all the fruity spiciness from a mince pie but without the pastry and cream. Don't worry, there's still plenty of butter for spreading!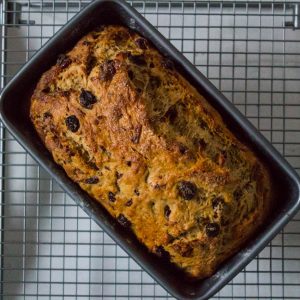 Ingredients
You will need for one loaf:
30g dried cranberries
125g raisins or sultanas
60g dried figs, chopped
300ml strong Lady Grey tea
425g strong white bread flour
7g fast action yeast
1 1/2 tsp ground cinnamon
1/2 tsp nutmeg, grated
1/2 tsp mixed spice
30g caster sugar
Zest 1 orange
60g butter, melted
1 egg, beaten
150ml milk, plus extra for brushing

Method
Stir the cranberries, raisins and figs together with the tea then leave to stand for an hour or so. Drain well and put to one side.
I used a mixer for this recipe but you could easily make it by hand with a bowl and a wooden spoon.
Add the flour, yeast, spices, sugar and orange zest to a mixing bowl and stir lightly to mix it all together.
Whisk the melted butter, milk and egg together in a small bowl. While the mixer is on a low speed slowly pour in the milk mixture. Once it's all been added increase the speed slightly and tip in the drained fruit.
Knead the bread in the mixer for five minutes or so. Cover the bowl and leave the bread in a warm place for 50 minutes or until doubled in size.
Lightly flour a standard sized loaf tin. Knock back the dough lightly then shape it to fit the loaf tin and pop it into the tin. Cover again and leave in a warm place for another 30 minutes.
Preheat an oven to 190C. Brush the top of the bread with a little milk then bake in the oven for 30-35 minutes and the top is golden brown.
Remove from the oven and leave to cool a little before removing from the tin and cooling on a wire rack.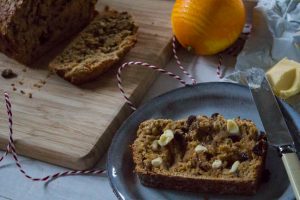 This fruit loaf is wonderful in two ways. Firstly, take a slice when it's cooling down after baking and just watch the butter melt into the bread. The photo above shows my very lumpy butter, that's how I like it so it forms pools across the slice as it melts. Secondly, serve it toasted for breakfast, again with a good scraping of butter. The fruit, spices and orange are so festive and it keeps so well you can enjoy it for days.