I won't lie to you. This is not a dish that's light on calories. But my word it is worth every one of them. My fennel and sausage ragu is exactly what the doctor ordered for mid-February. It's full of good, hearty ingredients and it can't fail to cheer you up from the inside out on a chilly evening. This dish is all about the sausages; the better the sausages you can get your hands on, the better the finished dish. Head to your local farmers' market, butcher or farm shop to get hold of something spicy and Italian, they may be a little more expensive but trust me, you won't regret it.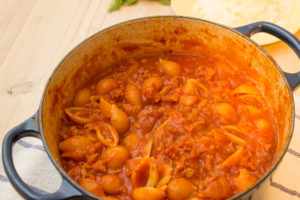 Ingredients
You will need (for two big, comforting bowls):
1 large fennel bulb, thinly sliced
3 large, very good quality sausages (preferably spicy Italian)
2 garlic cloves, crushed
Olive oil for cooking
1/2 tsp each dried thyme and rosemary
400ml tomato passata
150ml vegetable stock
1 tsp sugar
1 tbsp sundried tomato paste
200g pasta
Salt and pepper
Parmesan
Method
When you slice your fennel keep the green frilly bits to one side for later.
Heat a little olive oil in a saucepan on a medium heat. Add the fennel and pop a lid on. Leave to soften for a few minutes.
Remove the skins from the sausages and break the sausage meat up in a bowl. Add this to the fennel and fry everything together (lid off, stirring every minute or so) for around 15 minutes until the fennel is well softened and the sausages have started to brown at the edges.
Add the garlic and herbs and cook for a few more minutes.
Add the tomatoes, stock, sundried tomato puree, sugar and a little salt and pepper. Bring the pan to a simmer and cook for another 15 minutes until thickened.
While the sauce thickens, cook your pasta according to packet instructions. Drain when cooked and mix the pasta through the ragu.
Serve with plenty of Parmesan grated on top and tear the little green fennel fronds over too.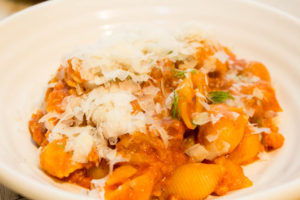 This has got to be one of my favourite pasta dishes I have ever had, including in restaurants. That's not a backhanded way of complimenting myself, I swear, but it is a compliment to the excellent quality ingredients that made this dish so good. The fennel cooks down so well that you wouldn't even know it was there (by sight) and the flavour mellows so that the whole dish has a background, savoury fennel flavour that's in no way overpowering. The ragu is so spiked with pieces of spicy sausage, woody herbs and faint garlic it's just the saddest thing when the bowl is empty. Adding the fennel fronds at the end not only gives a little colour but a lovely note of freshness too. Next time the veg box gives you fennel, you know what to do with it.