Citrus in January is obligatory as far as I'm concerned. Whether its limes, lemons, grapefruits, blood oranges or, if you're lucky, bergamot lemons there's always got to be something citrussy in the kitchen. That sharp hit of acidic, fresh taste is just what I need on these cold, grey days and if that lifting flavour can be added to a cake then it's all the better. This Upside Down Lime Cake was born out of necessity; my need to be greedy and a need to use up all the limes I had in my fruit bowl.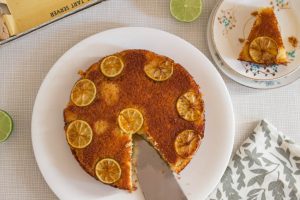 Ingredients
You will need:
100ml golden syrup
1 lime, finely sliced
100g unsalted butter, softened
100g caster sugar
2 eggs, beaten
100g self raising flour
1 tsp baking powder
Zest 1 lime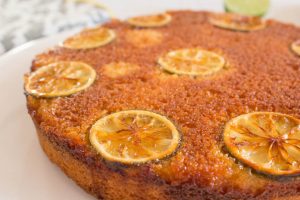 Method
Start by greasing a 20cm cake tin. Don't use a springform cake tin otherwise the golden syrup will leak out!
Pour the golden syrup into the tin and then put the lime slices on top.
Preheat an oven to 180C.
Beat the butter and sugar together until light and fluffy. Properly softened butter is the key to this.
Slowly add the eggs to the butter and sugar beating well after each addition.
Fold the flour, baking powder and lime zest into the mix then pour everything into the prepared cake tin.
Bake for 25-30 minutes until the cake is baked through. Remove from the oven and leave to cool in the tin for 15-20 minutes then turn the cake out upside down onto a plate.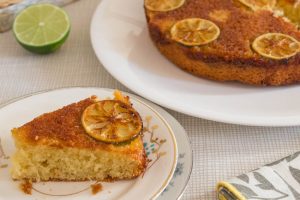 I was amazed how much the limes had shrunk after I turned the cake out; all that flavour had seeped into the syrup and sponge. The flavour of lime is so distinctive, I think it's one of my favourite tastes, and this cake distracted me completely from the drizzle outside. The limes themselves are a real treat to chew on after the sponge has been eaten; so sharp, sticky and intense. Also, I don't think I'm biased in saying this is an excellent cake, the OH described it as, "The best cake ever".