I absolutely love blood oranges for several reasons: firstly they are just so pretty it's hard not to like them, secondly as they are in season in January they are a welcome citrusy start to the year and thirdly I love squeezing a big bowl full to make my own pink juice. I wanted to make something to show off blood oranges at their best and I've fancied my hand at a tart au citron for a while. So I thought a sort of blood orange tart (or tart au blood orange) topped with caramelised blood oranges would be pretty tasty.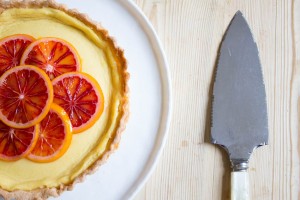 You will need (for a 20cm tart):
For the pastry –
220g plain flour
120g butter (I used salted)
Cold water
For the filling –
5 eggs
150ml double cream
125g caster sugar
100ml blood orange juice (no bits)
Zest 1 blood orange
For the caramelised oranges –
1 blood orange, sliced, pips removed
75g caster sugar
4tbsp water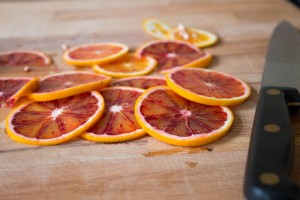 Make the pastry by rubbing the butter into the flour until you have a breadcrumb texture then bring the mixture together into a dough using a little cold water.
Knead the dough lightly on a floured surface then roll out and line a 20cm tart tin.
Cut or roll off the excess and prick the base with a fork.
Line the pastry with some greaseproof paper and fill with baking beans.
Place into a preheated oven at 160C onto a hot baking tray. Bake for around 15 minutes or until almost dry then remove the baking beans and put back into the oven for another 10 minutes or until the case is golden brown and dry.
Make the filling by whisking together the orange juice, cream, sugar, eggs and zest together.
Pour the filling mix into the tart case then return to the oven for 30-35 minutes or until there's just a little wobble left in the middle. Remove from the oven and leave to cool.
When the tart is cool, make the caramelised blood oranges. Add the water and sugar to a large frying pan on a low heat, stir until the sugar is dissolved. Increase the heat until the syrup is simmering then add the blood orange slices and simmer for around 10 minutes or until softened and glazed. Use to top the tart.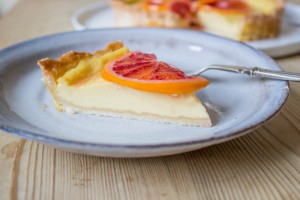 I made this on a Saturday evening to have after a pretty healthy dinner (I have to make up for the calories somehow) and it was just right. The blood oranges give such a lovely delicate flavour to the filling, the slight saltiness from the pastry and the sweet, sharp, citrus oranges on top made for a pretty perfect pudding. It also lasted quite well and the pastry stayed crisp even after being in the fridge overnight. I find the flavour of orange can get a bit lost in some cooking, but with this, it's all about the orange.