While in Gothenburg last year I think I had a Kanelbullar every day. When it's cold and windy outside sinking your teeth into one of these alongside a hot cup of coffee is just perfect. Slightly sticky, full of cinnamon and normally covered with nibbed sugar you can smell them before you see them in the cafés of Sweden. After trying a few different recipes I have come up with my own Kanelbullar recipe; the ideal balance of bread, wholesomeness and sweetness.
Ingredients
You will need (for 12 Kanelbullar):
40g butter
225ml milk
7g sachet fast action yeast
30g caster sugar
Pinch salt
250g wholemeal flour
250g strong white bread flour
For the filling
1 tbsp butter
1 tbsp caster sugar
2 tsp ground cinnamon
And
1 egg, beaten, for glazing
12 paper cupcake cases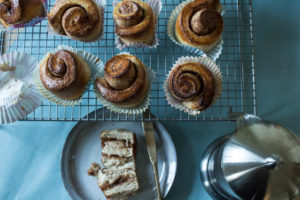 Method
Heat the butter and milk together until the butter has melted and the milk is warm.
While the milk is heating mix together the flours, yeast, sugar and salt in a large bowl or mixing bowl.
Pour the warm milk into the flour bowl and mix well until it has formed a smooth dough.
Cover the bowl and prove for 30 minutes.
Knead the dough for five minutes or so then divide into two equal sized pieces. Roll each piece into a rectangle.
Mix the ingredients for the filling together until smooth then spread the mixture evenly over both rectangles.
Roll each rectangle up along the long edge so you have two logs. Cut each log into six pieces so you end up with 12 buns. Put each bun into a case then cover and prove for another 30 minutes.
Preheat an oven to 220C. Brush each bun with beaten egg then bake for 8-10 minutes or until golden brown and make a hollow sound when you tap the bottom.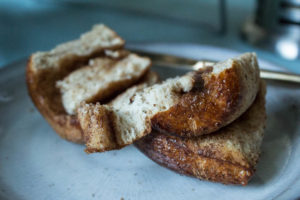 I have to say that spreading the buttery, sugary cinnamon mix over the dough is one of the most satisfying things ever. The smell as they bake is just fantastic; a combination of bread, cake and cinnamon. They are best eaten while still warm from the oven, or warmed up again for breakfast with some hot tea or coffee, or in the afternoon with a good book and a mug of hot chocolate. Anytime, it seems, is ideal for enjoying these. A little bit of fika in your own home. If you like the sound of Swedish baking you could also try this recipe for Kladdkaka; a gooey Swedish chocolate cake.