I often make macaroni cheese, or some variation of it. I like to play around with adding vegetables, different cheeses or flavours in the sauce. This three cheese and cauliflower macaroni cheese is one of the most delicious I've made. The combination of Emmental (for sweetness and stringiness), Cheddar (for bite and cheesiness) and Parmesan (for savouriness) means you get the best of all the cheeses! And don't worry, there's a cauliflower in there too; to add a little vegetable healthiness amongst all that indulgence.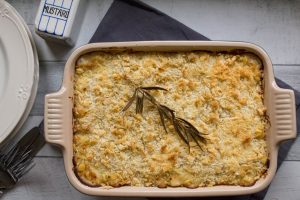 ingredients
You will need (for two generous portions):
150g macaroni
1 small cauliflower, chopped into small florets
25g unsalted butter
25g plain flour
300ml milk
2 tsp Dijon mustard
75g strong Cheddar cheese, grated
75g Emmental cheese, grated
30g Parmesan, grated
Salt and pepper
Handful breadcrumbs
Sprig fresh rosemary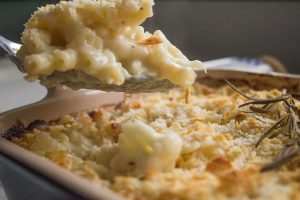 method
Bring a pan of salted water to the boil, add the macaroni and cook according to packet instructions. Add the cauliflower to a steamer over the macaroni for the last 3-4 minutes of cooking. Drain them both well and put to one side.
To make the cheese sauce melt the butter in a small saucepan on a medium heat and then add the flour. Cook for a minute or two then gradually whisk in the milk. Keep whisking to ensure there are no lumps.
Continue whisking the sauce until it bubbles and becomes thick. Remove from the heat, stir through most of the cheese, the mustard and a little salt and pepper.
Mix the macaroni, cauliflower and cheese sauce together then tip into a baking dish. Sprinkle the remaining cheese over the top and then sprinkle over the breadcrumbs. Pop the rosemary sprig on top.
Bake in a preheated oven at 180C for 25-30 minutes, or until golden on top.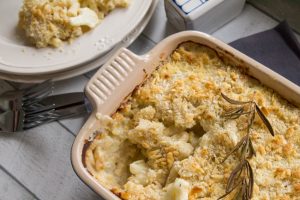 You might be thinking that the rosemary is a bit pointless just stuck on top of the macaroni cheese like that. Well, it's actually deliberate. When the dish comes out of the oven you want to remove all the leaves from the rosemary and leave them on top. Then, when you serve it up everyone gets a bit of roasted rosemary which has such a great flavour. This three cheese and cauliflower macaroni is such a comfort food dish for me; cheese, pasta, cauliflower and woody rosemary are all so good together.