Slicing open a blood orange has an air of anticipation about it. Will it be intense purple almost throughout, have a few red stripes or actually be mostly orange? Whichever colour you end up with they all have the same fantastic flavour. I love cooking with blood oranges; adding a splash to a cocktail or baking them into something delicious. This recipe for blood orange posset was something I had never tried before and I couldn't believe how easy it was to make. Just three ingredients are needed for a pudding that tastes so much more than the sum of its parts.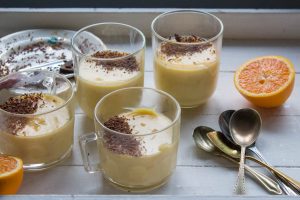 Ingredients
You will need (for four individual possets):
400ml double cream
150g golden caster sugar
Zest and juice two blood oranges
Method
Add the cream and sugar to a large pan and bring the cream up to the boil. Stir it all the time to ensure the sugar dissolves and the cream doesn't catch.
Boil the cream and sugar together for three minutes stirring continuously.
Remove the cream from the heat and add the blood orange zest and juice.
Pour the posset mix into four glasses or cups and then leave to set in the fridge for at least four hours.
When you are ready to serve grate over a little dark chocolate.
These are fantastic served with chocolate shortbread so you can dip the shortbread into the posset and scoop it all up!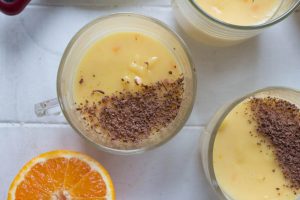 Can you ever go wrong with chocolate and orange together? I don't think so and this classic flavour combination is so honest in this dessert. Such simple flavours; no fuss or flair, just pure zingy orange mixed into thick cream and dark chocolate. It's almost unbelievable how well it sets considering there are just three ingredients but it's thick, rich and spoonable and perfect served with crunchy shortbread. For a pudding that takes just minutes to make this blood orange posset will be my go to dessert for any dinner party!