Just look at those Chioggia beetroot. Aren't they beautiful? Not only do these beetroot, also known as candy beetroot, look brilliant their vibrant stripes can't fail to cheer you up even on the gloomiest of days. These beetroot, horseradish and salmon sandwiches came about because I love the combination of earthy, sweet beetroot and fiery horseradish with smoked foods. That, and I fancied something for lunch that wasn't just toast! Another great thing about this variety of beetroot is that you don't need to clean the entire kitchen after peeling them; they have hardly any of the staining power of their deep purple cousin.
Ingredients
You will need (for four very generous open sandwiches):
Baguette, rye bread, crusty rolls or whatever bread you fancy; sliced or halved as needed to make it have an open face
800g Chioggia beetroot (any other beetroot would be fine too)
1 tbsp rapeseed oil
2 tbsp hot horseradish sauce
Salt and pepper
Smoked salmon
Squeeze of lemon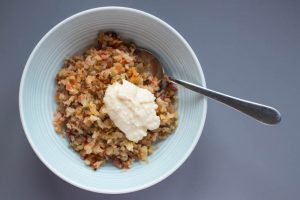 Method
Start by peeling the beetroot. Chop them up into chunks and then place in a roasting dish. Drizzle over the rapeseed oil, add some salt and pepper and mix it together well to ensure all the beetroot is coated in oil and seasoning.
Roast in the oven at 180C for 40 minutes or until the beetroot are soft when tested with a knife.
Blend the beetroot in a processor until it's in small chunks (or chunkier or smoother depending on how you like it) then stir through the horseradish.
Get your bread ready, maybe toast it, cut the crusts off, whatever you fancy then top with the beetroot and horseradish mix. Top each sandwich with some smoked salmon then drizzle over a little lemon juice and some extra black pepper.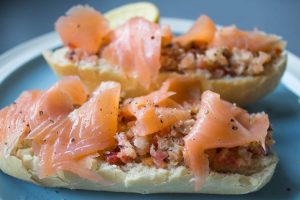 I think these open sandwiches have a little bit of everything. Sweet beetroot, punchy horseradish, crusty bread, silky smoked salmon and sharp lemon. You could also use smoked ham or smoked cheese instead of the salmon if you like. This was such a great lunch and one that I think would lend itself well to taking to work; you can just add the toppings when you're ready to eat! That beetroot and horseradish mixture would be great added to mashed potatoes too.