The New Year is always full of optimism, resolutions and excitement. What is your resolution this year? Some people choose dieting/getting healthy/losing weight as their resolution and to those of you reading this who may have just started their path to a healthier lifestyle, I apologise. This recipe is not for those who strive for a smaller waist. This is pure, unashamed indulgence; layers of buttery shortbread sandwiched with dulce de leche, topped with salted caramel and dark chocolate. Not millionaire's shortbread, but Zillionaire's Shortbread.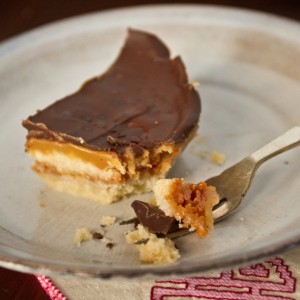 Ingredients
You will need (for a very hefty weight of shortbread):
250g butter
150g sugar
400g plain flour

397g can dulce de leche – you can make your own from scratch if you like!

For the salted caramel:
200g margarine
2 tbsp golden syrup
½ small can condensed milk
150g caster sugar
Salt

200g dark chocolate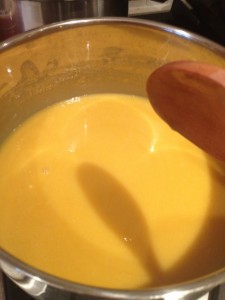 Method
Start by preheating the oven to 170C and then grease and line a large dish. I had one that was 23cm x 23cm but something wide will do. Cream the butter and sugar together until light and fluffy and then mix in the flour until it forms a dough. Take half of the dough and press into the bottom of the dish. Put this into the oven for 10 minutes. Remove from the oven and spread the dulce de leche on top. Top this with the remaining shortbread and return to the oven for around 25 minutes or until pale golden brown.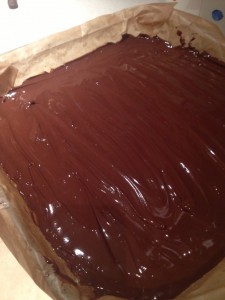 About 10 minutes before the shortbread is ready start to make the caramel. Put all of the ingredients for the salted caramel into a pan; put in as much or little salt as you would like. Heat the ingredients together slowly until the sugar has dissolved and then bring to the boil. Boil for 7-8 minutes, stirring continuously, until it has slightly darkened in colour and is a little thicker.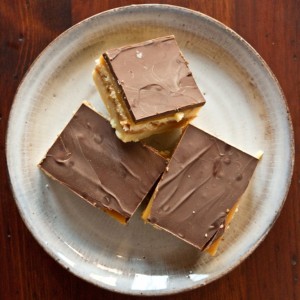 Remove the shortbread from the oven and while still hot cover the top with the salted caramel. Leave to cool; mine took around three hours, it holds its heat well! When cooled, melt the chocolate and then pour this onto the salted caramel. Leave to cool again before cutting into pieces.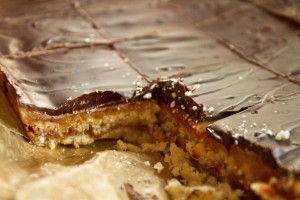 The dark days of January call for a little treat now and again. This last week I have got home from work, made a cup of tea and enjoyed a little slice of this. I think the name adds to the enjoyment; much rather Zillionaire's Shortbread than Millionaire's. If you're a fan of the chocolate, caramel, biscuit combo then take a look at my Millionaire's Tart with Salted Chocolate. There's nothing I'd do to improve it; crunchy shortbread, sweet sticky dulce de leche, chewy salted caramel and deep, dark chocolate. It is unbelievably filling and would feed a small army; probably one of my favourite things I have ever made.