There are some things that are tasty on their own but become even more so when transformed into a soft, squidgy, sumptuous (and very traditional) bread and butter pudding. This wonderful celebration of stale bread is one of my favourite puddings. It is exactly what you want from a pudding; sweet, light but also filling, warm and most importantly delicious. I think to describe it as stodgy is highly unfair.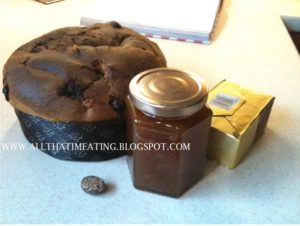 Ingredients
You will need (for four):
One large panettone

Butter

Marmalade

Nutmeg

125g sugar

3 large egg yolks

2 large eggs

275ml double cream

250ml milk
Method
For this particular bread and butter pudding I used a Panettone that had been hanging around the back of the cupboard, some tangy marmalade that my Great Auntie had made, butter (a given) and a grating of nutmeg.
I've not sliced a Panettone before but it was rather successful and very conveniently the slices snuggled into the dish like they were made for each other. Each slice was buttered, marmaladed and nutmegged before it went into the dish – marmalade side up.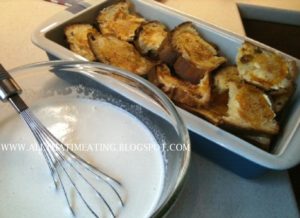 To make the custard (which is thinner than if you would be making it to pour) whisk the egg yolks, eggs and sugar together and then whisk in the milk and cream. I have tried the custards where you heat the milk and cream first and I think it makes no real difference. This way is much quicker and easier.
Pour the custard over the bread and leave it to rest for 20-30 minutes so that the custard has a chance to seep into the bread and make a gooey mess. I find you'll probably need to push the bread into the custard to ensure it all gets a good bathing.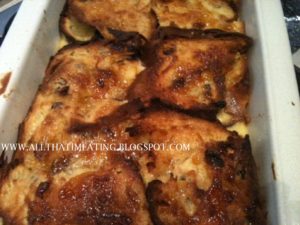 Pre-heat the oven to 180C and place the dish in a deep baking tray. Fill the baking tray half way up the pudding dish with boiling water. I find it easier to put a little into the tray, carry it to the oven and then pour the rest of the water in. It's much less hazardous. 
After about 30 minutes it should be golden brown and slightly crispy on top. Don't forget the boiling water when you remove it from the oven or you might end up with bandaged feet. 
Get yourself a nice big spoonful in a bowl, smother with cream and don't be embarrassed to go back for more.
All That I'm Eating