There's something about an iceberg lettuce and I feel it is sometimes a little overlooked. When it's properly crunchy it's so refreshing and I think rather delicious. My Smoked Chicken Caesar Salad is a recipe which is perfect for the hot weather we are having at the moment. I didn't make the dressing myself but a homemade dressing would be fantastic. Personally I didn't fancy all that whisking, I much preferred the idea of sipping a well iced beverage outside. As green beans are in season at the moment it would have been rude not to add a handful.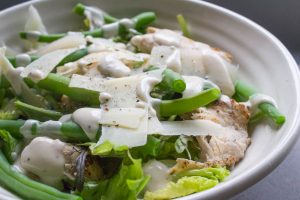 Ingredients
You will need (for two):
1 smoked chicken breast (or pack of smoked chicken)
Handful green beans
¼ iceberg lettuce, washed and shredded
Large handful mixed salad leaves
Good quality Caesar dressing
Parmesan
Crusty bread
Method
If you can get your hands on some smoked chicken from your butcher I find it always has a great flavour and a delicious texture. I have seen it in supermarkets too which would be good to use. Dice or slice up the smoked chicken and put to one side.
Tip the green beans into a pan of salted boiling water and cook for two minutes then drain. You want them to retain some bite.
Layer all the ingredients up in a bowl, drizzle over the Caesar dressing (I am pretty liberal with mine!) and then add some shaved Parmesan over the top.
Serve with a nice crusty bread.
I made an extra serving of this and had it for leftovers for lunch the next day. A few of the salad leaves looked a little sad but as the flavours had had time to mingle together it had a great flavour.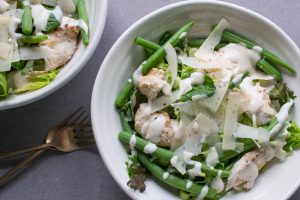 Where's the bacon? Well, because I used smoked chicken in this recipe I don't feel that bacon is really necessary but you could add some if you so wish. I also didn't add any croutons as I prefer to share some warmed bread which you can rip in to and mop up those last bits of dressing in the bowl. Crisp leaves, flavourful chicken, savoury Parmesan and sweet green beans; all rounded off with rich Caesar dressing, this is simple food at its best. Using some hot smoked salmon would be delicious in this recipe, especially with a little sliced cucumber.