We bought our first ever BBQ this year. Not knowing how much it might get used we went for a basic entry level one which has been great, and it's getting used at least once a week at the moment. When the BBQ is on I like to be outside, nice cold drink in hand, to watch everything cooking. That's why these simple BBQ sides are my go to recipes whenever we're cooking al fresco. I can make them quickly in the kitchen so they are ready to go once the hot food is ready.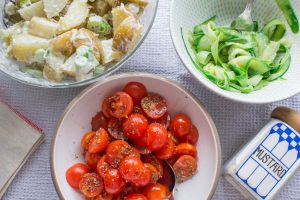 Mustard Pickled Cucumber
You will need (for two as a side):
1 small or half a large cucumber
1 tbsp white wine vinegar
1 tbsp sugar
Pinch salt
1 generous tbsp Dijon mustard
2-3 tbsp extra virgin olive oil
Black pepper
Peel the cucumber into strips using a vegetable peeler and put to one side. You could salt the cucumber if you wanted to, I have tried salting it and leaving it to drain then squeezing the water out but I don't think it really makes much difference for this.
Put the vinegar, salt and sugar into a small bowl and whisk together. Add the mustard and give it another quick mix.
Pour in the oil and whisk until all the ingredients are combined; a big whisk and a small bowl are helpful for this.
Check the seasoning, add a little black pepper and then pour the dressing over the cucumber.
Variation
If you add a little dill to this mix with some very thinly sliced onion is makes a great Scandi inspired side.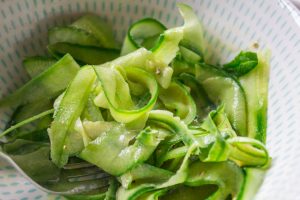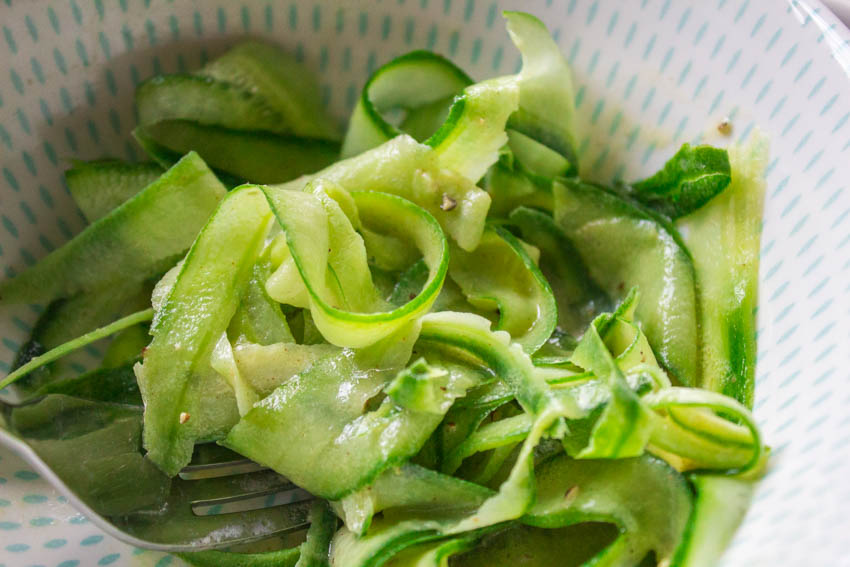 Balsamic and Herb Tomatoes
You will need (for two as a side):
Large handful really ripe cherry tomatoes
Pinch salt
2 tbsp extra virgin olive oil
1 tbsp balsamic vinegar
1 tsp dried oregano
Black pepper
Start by halving all the tomatoes and putting them into a bowl. Sprinkle over the salt, mix it all together well and then leave for 10-15 minutes.
Add all the other ingredients and mix together well.
The reason I add the salt first is because it takes a little of the excess water out of the tomatoes which is delicious for two reasons: firstly it helps intensify the tomato flavour and secondly, you're left with the tomato juice, oil, herbs and vinegar at the bottom of the bowl which is just asking to be mopped up with some bread.
Variation
I love adding avocado, torn mozzarella and loads of fresh basil to this. It's also great if you roast this mix in the oven for 20 minutes if you want something hot.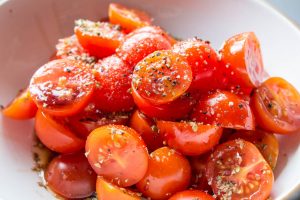 Classic Potato Salad
You will need (for two as a side):
400-500g potatoes, any will do but new potatoes (especially Jersey Royals) are best
4-5 spring onions, ends removed and finely sliced
3-4 tbsp good quality mayonnaise
1 tsp Dijon mustard
Salt and pepper
Dice the potatoes up to whatever size you fancy. I like to leave the skins on but you can peel them if you prefer.
Add the potatoes to a pan of cold, salted water and bring everything up to the boil. Leave to simmer for 10-15 minutes or until the potatoes are cooked through. It may take more or less time depending on the size of the potatoes.
Drain the potatoes well and then leave to cool.
Mix the mayonnaise and mustard together with a little salt and pepper. Stir this through the cooled potatoes with the spring onions.
Variation
Use your favourite salad dressing over the potatoes instead of the mayonnaise. I like to use a French dressing along with some diced sundried tomatoes and those roasted peppers and artichokes you can buy as antipasti.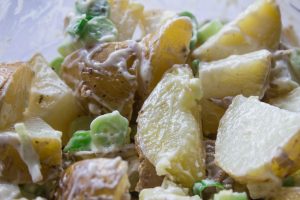 I find that these three simple BBQ sides are real crowd pleasers and I normally have at least two of these with a BBQ, if I'm lucky all three! They go so well with whatever we're cooking up, whether we're having meat or veg. I always like to try out new salads like this, I've got my eye on an Indian spiced carrot salad and I tried out some great barbecued aubergines with a tahini and yoghurt dressing.