This is actually surprisingly quick to make and I normally have some or most of these ingredients in the kitchen so it's a great recipe to keep coming back to. My squash and chickpea tagine is a great way to use up some spices and a few tins from the cupboard. The fennel and paprika aren't perhaps the most traditional tagine ingredients but I really think they add to the sweet squash and earthy chickpeas. If you roasted the squash before adding it I think it would be even tastier. Try and find apricots that aren't completely dry, when they're still a little soft they have a beautiful honeyed flavour. A few toasted flaked almonds on the top would give a lovely crunch to the dish.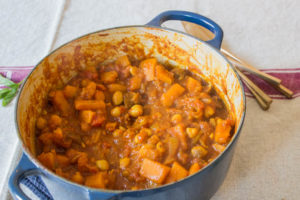 Ingredients
You will need (for four):
1 large onion, sliced
2 cloves garlic, crushed
1 small piece fresh ginger, grated
1/2 tsp ground cinnamon
2 tsp ground cumin
1 tsp ground coriander
1 tsp paprika
1 tsp turmeric
1 tsp fennel seeds
1 small squash, peeled, seeds removed and chopped into chunks
1 tin chopped tomatoes
1 tbsp tomato paste
200ml vegetable stock
1 tin chickpeas, drained
oil for frying
salt and pepper
10 dried apricots, halved
Juice 1/2 lemon
Method
Heat a little oil in a saucepan and add the onion. Fry for 10 minutes until starting to soften, then add the garlic and ginger and fry for a few minutes more.
Add all the spices and continue to fry for a few more minutes then tip in the squash. Stir the squash into the pan to ensure it gets a good covering in all the spices.
Tip in the tomatoes, tomato paste and vegetable stock, bring the pan to the boil and then simmer for 15 minutes. Add the chickpeas and continue to simmer for another 15 minutes.
Check the squash is cooked and add some salt and pepper to the tagine. Stir in the apricots and lemon juice then leave on a low heat while you make your side.
Serve up in bowls.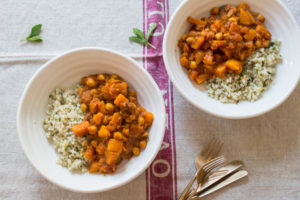 You could have this on its own as a hearty soup, serve it with cous cous, brown rice or tabbouleh. I most recently served this with giant cous cous that I had added lemon zest, fresh coriander and mint to and it was a great combination. It's full of veg, it's hearty and just perfect at this time of year when the evenings can still be a little on the cool side. Give or take a few grams it's got five of your five a day in and, I didn't realise until afterwards, turned out to be accidentally vegan.