The elderflowers are here and it is the best time of year. If I was more of a poet I'd have come up with a second line to go with that. I've been shoving elderflowers into various different things for years: cordial, gin, crumble and sugar to name a few. I wanted to try something a little different, and a bit less time consuming this time round, to get that wonderful elderflower fragrance down my neck as soon as I could. A celebration of late spring flavours my Elderflower, Cucumber and Mint Fizz is just the ticket for a sunny afternoon.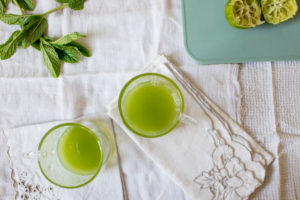 Ingredients
You will need (for two glasses):
½ cucumber, grated
1 lime
3 heads of elderflower
Small handful mint leaves
Sparkling water
Method
If you can pick your elderflowers on a sunny morning it is said to be better for flavour. Having picked in all manner of different weather I can confirm that sunny mornings are actually better; they certainly smell more intense anyway.
I leave my elderflower heads on my draining board when I have picked them to allow time and opportunity for any bugs to escape (it's next to the window so they can go back to where they came from). I then follow this with a good shake outside to get rid of any others that are clinging on.
Squeeze the grated cucumber into a small lidded container to collect the juice. The leftover grated cucumber is excellent for making a raita.
Squeeze the juice from the lime into the cucumber juice. Bash the mint leaves up a little, either in a pestle and mortar or just whack them with a rolling pin, and add these to the cucumber juice too.
Pick the elderflower flowers from the heads, leaving as many stalks behind as possible, and add these to the container. Put the lid on and give everything a good shake. I prefer shaking it as I feel this more violent approach helps to release more oils and flavour.
Leave to infuse for an hour.
Strain the cucumber juice into two glasses and top up with sparkling water. Decorate each glass with a little mint leaf if you're feeling suave.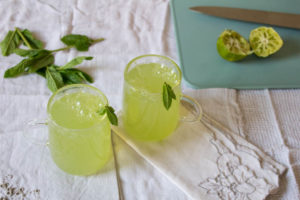 This would be really rather delicious if topped up with some Cava or added to a gin and tonic. On its own it is so refreshing and has all the flavours of an English summer; I really like it with sparkling water, or just tonic, sat outside with a good book. It looks so delicate but don't let that fool you, the cooling cucumber, sharp lime, refreshing mint and elegant elderflower all come through so well. If you are thinking of heading out to pick some elderflowers, check out my beginner's guide to wild food!