I tried something similar to these Mexican black beans at a restaurant a few weeks ago. They were so tasty and I loved the frugality of them that I really wanted to try and make them at home. Attempt one tasted fine but the texture was all wrong, attempt two was an improvement but the spicing wasn't quite right. By the third attempt I'd got it; tasty, slightly spicy, cheap and easy to make. Does it get much better?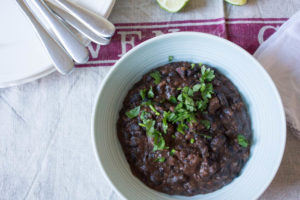 Ingredients
You will need (for 2):
1 can black beans, drained and rinsed £0.65
2 garlic cloves, crushed £0.10
1 small chilli, halved £0.15
150ml chicken stock (you could use vegetable stock to make these vegetarian or vegan) £0.30
½ tsp ground cumin £0.05
½ tsp smoked paprika £0.05
oil for cooking £0.10
salt and pepper £0.05
fresh coriander, chopped £0.30
Rice to serve £0.30
Total for two: £2.05
Method
Heat a little oil in a saucepan on a medium heat and add the garlic. Fry for a minute or so and don't let the garlic catch. Add the chilli and spices and keep everything moving.
Add the beans, stock, a little salt and pepper then pop a lid on and leave to simmer lightly for 15 minutes.
Take the lid off and continue to cook for another five minutes; lightly mash most of the beans with the back of the spoon until it's like a very thick soup.
Remove from the heat and allow to cool slightly and thicken up a little more, stir through the fresh coriander and serve.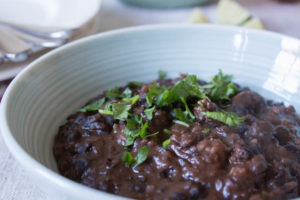 I had this on the side with my enchiladas recently but the previous versions were served with rice or quinoa (both good choices) and a fresh tomato salad. I left the chilli out of the first batch I made and it still tastes great but adding it does give that lovely fresh chilli flavour to the beans and along with the spices, garlic and coriander this is a very tasty bowl of stuff. And I bet you've got most of the ingredients in your cupboards already. I would be tempted to thicken these beans up further, spread them over a wrap, top with some leftover shredded chicken and fresh tomato salsa, roll and enjoy.