I don't want to speak too soon and scare the sunshine away but it might actually now be summer. I've been trying out some lovely new little treats that are great for summer snacking and are easy meal additions. I always find myself eating lighter in the summer months, but I don't just mean calories. Lighter flavours, colours and textures are always welcome at this time of year and these products I've been trying fit into that perfectly.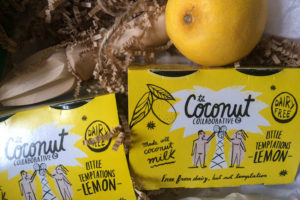 First up I tried some pots from Coconut Collaborative. Called Little Temptations these lemon and coconut pots are great mini desserts; I've actually been taking them to work or having one for breakfast instead of yoghurt. All the products made by Coconut Collaborative are, funnily enough, coconut based meaning they are vegan. I really liked the combination of lemon and coconut flavour in these pots and the size was just perfect for me. Also, not only are they dairy free they are also helping the farmers that grow the coconuts and planting more trees. A guilt free treat indeed! 4 pots £2 available from large retailers.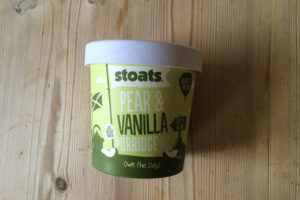 Next up, and surprisingly welcome on a chilly June morning, was this Vanilla and Pear porridge from Stoats. I was surprised how well the pear flavour carried through to the porridge and the vanilla wasn't too overwhelming. There was a little brown sugar in the mix too and I liked the subtle caramel flavour that it added. I do like all the different flavours of porridge pots you can get; it's so easy to just fill with hot water and have a really filling breakfast. £1.29 per pot available from Stoats, other Stoats products available from large retailers.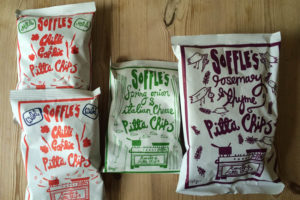 I also had some Soffle's Pitta Chips to try in four different flavours: spring onion and Italian cheese, rosemary and thyme, mild chilli and garlic and wild chilli and garlic. I've got to say that the wild chilli and garlic was really hot, if you like your chilli spicy then you will love these. I liked all the flavours but I think the rosemary and thyme would have to be my favourite; served with a cold beer and dunked in fresh tomato salsa they were delicious. 15 packs £15.99 from Soffles, also in some larger retailers.
Thank you to Coconut Collaborative, Stoats and Soffle's for the samples. All opinions and words expressed are my own. Prices correct as of 13/6/17.