I have to admit that I turn to a chicken dinner in some form or other most weeks. Especially as the evenings get lighter and warmer as it's an easy meal to pull together and so flexible on the ingredients used too. My latest offering, this sticky chilli chicken with avocado rice salad, is full of colour and vibrant flavour and ready in 30 minutes. Trust me on the grapefruit. If you don't fancy using chicken in this then I think tofu, halloumi or aubergine would be great alternatives.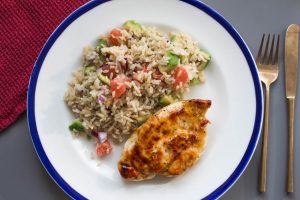 Ingredients
You will need (for two):
2 chicken breasts
Rapeseed oil for cooking
Salt and pepper
2-3 tbsp sweet chilli sauce
150g brown rice
1 large avocado, skin and stone removed, roughly chopped
1/2 grapefruit, peel and pith removed, roughly chopped
1 small red onion, peeled and finely chopped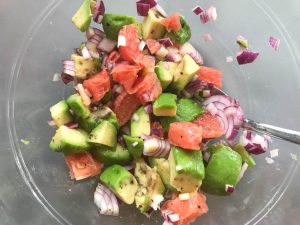 Method
Pop a pan of water on to boil and once boiling add the rice and cook according to packet instructions. I find it normally takes around 20 minutes.
Then, put the two chicken breasts between two sheets of clingfilm and whack them with a rolling pin to make them a little thinner; around 1-1.5cm thick is ideal. Season both sides of the chicken with salt and pepper.
While the rice cooks prepare the avocado, grapefruit and onion. Mix them all together in a bowl and add a little salt and pepper. The grapefruit juice will stop the avocado from turning brown.
Around 10 minutes before the rice is cooked heat up a frying pan on a medium/high heat and add a little oil. Add the chicken and fry on both sides until cooked through and starting to turn golden brown. Pour in the sweet chilli sauce and leave it to bubble up, turn sticky and coat the chicken.
Drain the rice well and stir in the avocado mix. Serve up with the chicken on the side.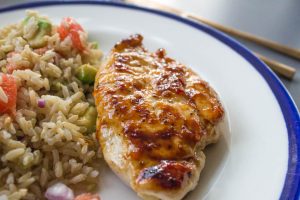 The chicken is so good! It's sticky, spicy and, depending on the sweet chilli sauce you use, garlicky too! The brown rice brings a lovely wholesomeness while the avocado works to smooth everything out. Adding the grapefruit means there's a fantastic sharpness to cut through everything. You could use so many different ingredients like mango and quinoa, miso or aubergine! And if you're a fan of quick recipes during the week you might like to take a look at my other 30 minute recipes.