How many times do you think about what to make for dinner and end up with a seemingly impossible list of requirements for that one meal? It needs to be filling, but without being too full of fat, tasty without being too salty or sugary, balanced and preferably something interesting. Welcome to every weekend of my life! Planning meals is something I can't live without (see post here if you want some top tips) and I usually do it on a leisurely Sunday morning when I have time to look through my blog, magazines and books for inspiration. More often than not I end up fulfilling all the requirements that I want my dinner to be, but it takes time to work it out. So give my Harissa Chicken with Quinoa, Avocado and Mango Salad a go; I've done all the hard work for you.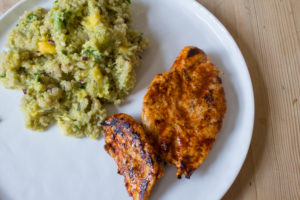 Ingredients
You will need (for two):
2 chicken breasts
2 tsp harissa paste
Oil for cooking
100g quinoa (this is quite a lot of cooked quinoa, if you're not feeling very hungry I'd do 75-80g for two)
1 avocado, flesh diced
1 mango, flesh diced
1 small red onion, finely chopped
1 small chilli, finely chopped
Handful fresh coriander, chopped
Salt and pepper
1 lemon
Method
Cook the quinoa according to the packet instructions.
While the quinoa cooks, prepare the avocado, mango, onion, chilli and coriander.
Once the quinoa is cooked, drain and leave to cool slightly. Squeeze over the juice from the lemon and add a little salt and pepper, mix well.
Get a frying pan on a medium heat and add a little oil.
Flatten the chicken breasts with a rolling pin between two sheets of cling film then season each side lightly.
Add the chicken to the frying pan and cook until it's turning golden brown and just cooked through.
Decant the harissa paste into a bowl then brush it over one side of the chicken breasts, turn over, then brush the other side. They will turn a fantastic colour and the smell is amazing! Let the paste catch slightly on the pan to give everything a smoky flavour. Remove the chicken from the heat.
Mix all the prepared fruit and veg into the quinoa then serve up with the chicken on the side. Drizzle over a little plain yoghurt if you like.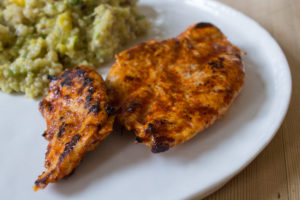 Not only is this (well, I think so anyway) a balanced meal it's also light, vibrant and full of flavour. It's filling and it lends itself to so many different adaptations; jerk chicken with brown rice or maybe togarashi steak or salmon with noodles. I can't think of anything that this harissa chicken and quinoa salad doesn't have: three of your 'five a day', protein, carbs, freshness, flavour and not a lot of fat. And it tastes so good. Brushing the chicken is the best way I have found of getting the harissa paste to keep it's floral notes and the spiciness when combined with the tropical mango, creamy avocado and fresh raw onion, chilli and grassy coriander is fantastic. This is one of my favourite recipes ever, indeed I am having it for my dinner tonight again. Oh, did I mention, it's ready in less than 30 minutes. *listens for applause*