We learnt a few things about Sweden while we were there. Firstly, if you drive on the smaller roads there's hardly anyone else driving the same way. Secondly, if you like lakes, red houses and pine trees then Sweden is the place for you. Lastly, it doesn't seem to matter where you are, all the food is brilliant. Embarking on a west coast Sweden road trip meant we had to consider a few things we don't normally have to think about on other road trips: ferry crossings and waterproofs being the two most important.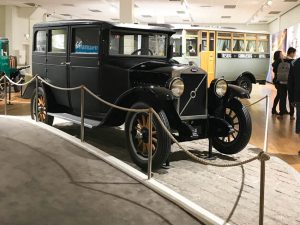 Gothenburg and The Volvo Museum
We landed in Gothenburg and within half an hour of the plane touching down we were through the airport and in the hire car. We've been to Gothenburg before; there's lots of museums, galleries and brilliant restaurants to check out. This time however we were heading to stay with family just outside Gothenburg and on the way we stopped at the Volvo Museum.
The museum is amongst all sorts of Volvo factories and warehouses but it's easy to find. As you'd expect, there are many Volvos. The cars are arranged by decade, lots of their concept cars are on display too and there's also a car made out of Lego. Our visit was a welcome pit stop after sitting on the plane and it was great to see all the old cars, I think the OH enjoyed it a bit more than I did!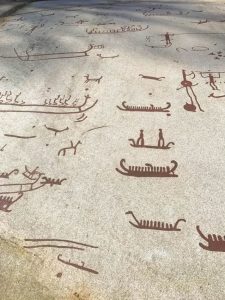 Tanum
The Vitlycke Museum is worth a stop. The museum itself is small but full of facts and the model bronze age village is fully open to walk around. Most of the reason to stop however is over the other side of the road from the museum at Tanum.
The rock carvings here date from the bronze age and are remarkable because there are so many of them, the subjects they depict and the quality of the carvings. The carvings are all signposted through walkways and stairs through the forest and the site is UNESCO listed.
Strömstad
Strömstad is far north on the west coast of Sweden, near the Norwegian border, and we headed up there to stay at Emma's bed and breakfast; a renovated 18th century house.
We ended up having the B&B to ourselves, not even the host was there, so we didn't get the second B as part of our stay but we were welcome to use whatever was in the fridge to make our own breakfast! It was a lovely place to stay and easy to walk to Strömstad; you just have to get a little ferry across the water to get to the town. There was a little drizzle while we were there but I bet the town is glorious in the sunshine.
Fjällbacka
On the way to the next place we stayed we stopped at Fjällbacka. Their town square is dedicated to Ingrid Bergman but we went to climb Kungsklyftan where from the top you can get a 360 degree view of the archipelago around the town. I won't lie. The rain hampered our plans somewhat so we set our sights on finding somewhere for lunch.
We ate at Stora Hotellet Bryggan and they had a fantastic set lunch menu. For the equivalent of around £9 you got unlimited salad (a selection of different ones to help yourself to), a hot meal (on Mondays it was goulash or cod), unlimited soft drinks (water, lemon water or iced tea) then coffee and a biscuit to follow. I had the cod, it came with simple boiled potatoes and an egg sauce and it was just perfect to eat as the rain came down outside.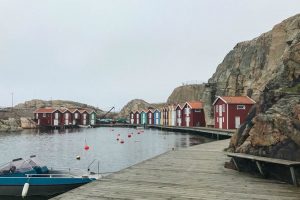 Smögen
Smögen is a really beautiful town. It has a hugely long boardwalk that runs alongside the water's edge with classic red, and sometimes not so red, houses, bars and restaurants on the other side. There wasn't a lot open when we were there as it was out of season but I bet in the summer it is rammed with people soaking up the sun on the boardwalk.
Fiskebäckskil
Another lovely seaside town but different to the others as all the streets are cobbled. We stayed at the Slipens Hotell which was probably one of the best hotels I have ever stayed in. It was in such a great seafront location and the room was immensely comfortable.
The food was fantastic too. We asked for something vegetarian, with no idea what we would get, and we were not disappointed. There was bread to start of course; four different types with two different butters and a tapenade. The main was baked celeriac, Jerusalem artichoke purée, arancini, raw asparagus, lentils and herb oil. So hearty and filling. What we didn't realise is just how many whiskys they have in their collection…and they gave us a key to the cupboards to smell as many as we liked before choosing which one to drink!
I would like to do this road trip again, but in the summer months, to see how different these towns are with more people around; but in a way it was very nice to have them almost to ourselves.