So I don't know about you but when it comes to weeknight cooking I am looking for something tasty, easy and quick to cook. I simply don't have the time or energy to cook something which takes hours, so I don't. Just because something is quick to cook, doesn't mean it can't be balanced or delicious. Below are my top 7 easy weeknight dinners; recipes that I turn to again and again, maybe with a little variation in the ingredients here and there. I class something as 'quick' if it takes 30 minutes or less from start to finish; something is 'easy' if there's less than two cooking pans on the go and 'tasty', well, you'll have to be the judge of that.
Beef and Chard Ramen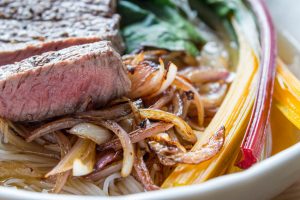 Ramen is such a flexible meal to make! You can add different vegetables, herbs, stock and protein to suit what you like and what you have available. My recipe for Beef and Chard Ramen can easily be changed so you use chicken, tofu or veggies; the broth I use is veggie anyway and you can top it with all sorts of herbs, sliced chilli, spring onions or whatever you like.
Miso Roasted Aubergine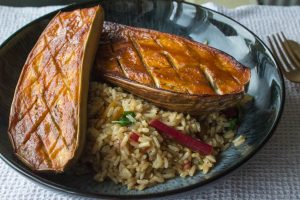 I absolutely love this dish. It's all about the quality of the miso paste that you use. I have tried using cheaper miso pastes but it's just not the same as a really good quality white miso. My Miso Roasted Aubergine with Rainbow Chard and Soy Dressing is one I crave more often than anything else. Aubergine does work best for this dish but you could try experimenting with different veg. The brown rice and chard can easily be changed for different ingredients.
Singapore Noodles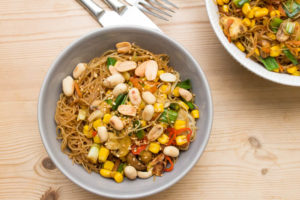 These Vegetable Singapore Noodles are a very veggie (vegan actually) version of classic Singapore noodles, so full of flavour and are ready in no time at all. Add extra chillies if you want it nice and spicy and I have tried it with a little leftover shredded chicken before too.
Fennel and Sausage Ragu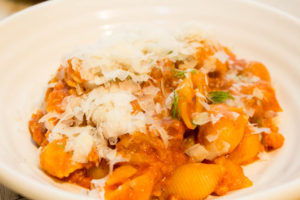 When I make a ragu, I make a proper ragu. It takes many hours of slow, slow cooking and it's definitely worth it. I really like to make quick versions too and much prefer using sausages for a quick flavour hit. My Fennel and Sausage Ragu is not exactly low fat but oh my, is it worth the calories. And don't skimp on the fennel, it's what makes it even better.
Spaghetti with Balsamic Tomatoes, Mozzarella and Olives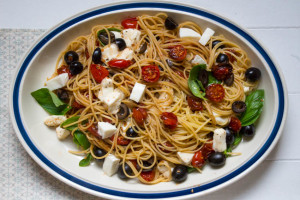 This is such a summery dish for me; full of fresh flavours and so many colours. My Spaghetti with Balsamic Tomatoes, Mozzarella and Olives is one I immensely enjoy eating outside in the sun! Roasting the cherry tomatoes with balsamic vinegar intensifies their flavour and then mixed with fragrant basil, creamy mozzarella and salty olives it's such simplicity and pure joy.
Chorizo Hash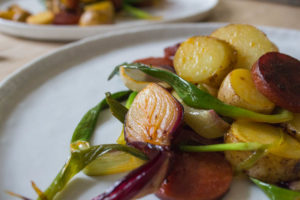 I always have a different variety of potato in my kitchen depending on what arrives in the veg box. This Chorizo Hash makes the most of the few potatoes we inevitably have hanging around by the end of the week. I've tried veggie versions, chorizo, bacon, hot smoked salmon and all manner of different vegetables. You can't go wrong chucking some potatoes into a pan with butter, oil and a few other ingredients.
Harissa Chicken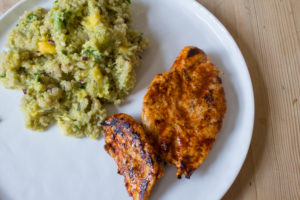 This Harissa Chicken with Quinoa, Avocado and Mango Salad is so simple to make and you can use all sorts of different flavours and marinades on the chicken. It's even better if you have a barbecue going and you can pop the chicken (or veg or fish!) onto that for a fantastic smoky flavour.
If you follow me on Instagram you'll probably have seen these pop up on my weekly meal plans every now and then! I hope they have given you a little inspiration for a delicious set of 7 easy weeknight dinners.