Meals which are healthy, filling, full of colour and flavour and balanced are what I try to aim for with my cooking…most of the time. I always seem to come back to the same combination of chicken with some sort of grain; it's always a winner and none more so with my latest recipe. This sesame sesame chicken with miso dressing is wholesome, flavourful and just the ticket for some quick weeknight cooking.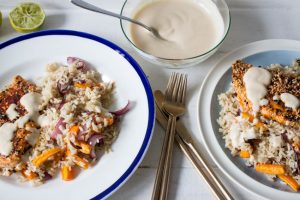 Ingredients
You will need (for two):
2 small chicken breasts
1 tsp smoked paprika
1 tsp garlic powder
1 tsp ground cumin
Salt and pepper
Oil for cooking
2 tbsp sesame seeds
150g brown rice
1 small red onion, sliced
2 carrots, peeled and chopped into small chunks
2 tbsp white miso paste
Juice 1 lime
125ml plain yoghurt
Method
Start by adding the onion and carrots to a roasting tray, drizzle over a little oil along with some salt and pepper and mix everything together well. Pop into the oven at 180C for 25-30 minutes or until soft and starting to brown at the edges.
Bring a pan of water to the boil and then add the rice and cook according to packet instructions.
Place the chicken in between two sheets of clingfilm and bash with a rolling pin to make them a little thinner. Sprinkle the paprika, garlic powder, cumin and salt and pepper over both sides of the chicken.
Get a frying pan onto a medium/high heat and add a little oil. Add the chicken and fry, turning from time to time until the chicken has cooked through and the spices are lightly blackened. Add the sesame seeds to the chicken for the last few minutes of cooking to allow them to toast.
Whisk the miso, lime and yoghurt together to make the dressing.
Drain the rice when cooked and return to the pan, mix the roasted vegetables into the rice and serve up with the chicken and dressing.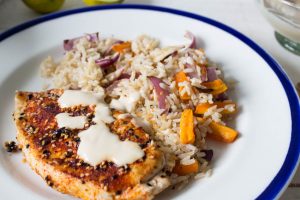 This recipe lends itself particularly well to using up Sunday roast leftovers. You could mix any leftover veg into the rice, top with leftover roast chicken and just mix up the quick dressing. The combination of spices with the earthy miso gives the whole dish a delicious undertone; the sharp lime and sweet roasted vegetables add flavour over the top. Red rice or wild rice would be great if you don't have any brown, the nuttiness of the rice is great in this dish. All in all this is my new current favourite chicken and grain combination!