I love looking in my fridge and cupboards and finding ingredients and flavours to try together. Recently I wanted to try adding chipotle chillies to more than just chilli con carne and I thought it would be worth trying a pinch with sweetcorn. This chipotle sweetcorn hash came out of a mish mash of ingredients I happened to have to hand and the end result was delicious. Sticky, sweet, spicy and moreish I'll be making this one again soon!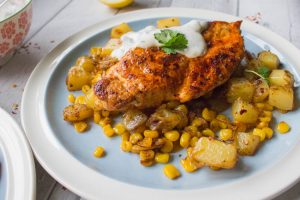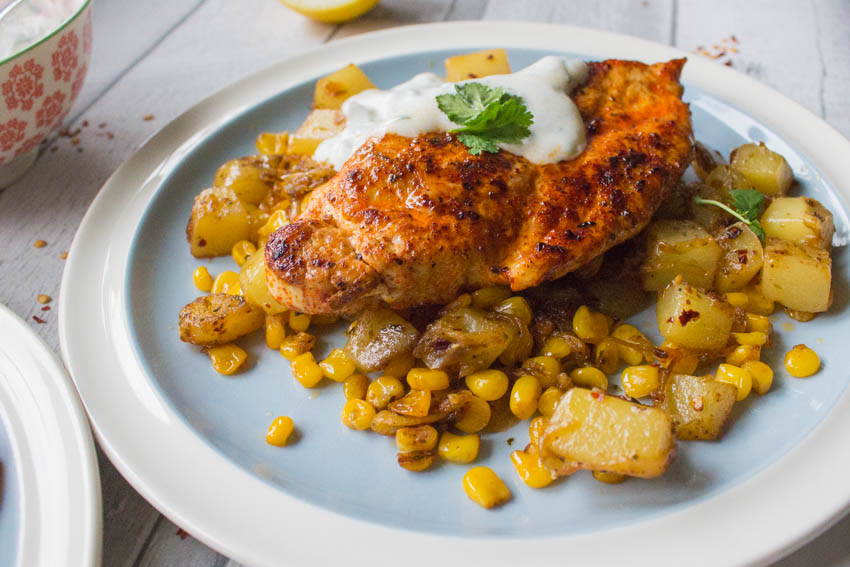 Ingredients
You will need (for two):
Knob of butter
Rapeseed oil (for cooking)
1 small onion, finely sliced
2 garlic cloves, crushed
1 tsp dried oregano
½ tsp chipotle chilli flakes
1 tsp ground cumin
1 mug frozen sweetcorn
300g potatoes, scrubbed and diced into 1cm cubes
Juice ½ lemon
2 chicken breasts
2 tsp paprika
Salt and pepper
Plain yoghurt
Small handful fresh coriander, roughly chopped
Method
Heat the butter and a glug of oil together in a frying pan and add the onions. Fry for around 10 minutes on a medium heat before adding the garlic and all the spices and oregano. Continue to fry for a few more minutes.
Add the potato and continue to fry for around 15 minutes with a lid on, stirring from time to time. After 15 minutes add the sweetcorn and continue to cook with the lid off for another five minutes.
While the potato cooks put the chicken breasts between two sheets of clingfilm and bash with a rolling pin to flatten. Sprinkle the paprika and a little salt and pepper onto each side.
Get another frying pan onto a medium heat and add a little oil. Fry the chicken on both sides until cooked through and golden.
Add a little seasoning and the lemon juice to the potato pan. Stir the coriander through the yoghurt.
Serve up the sweetcorn hash topped with the chicken and coriander yoghurt.
This would be delicious with tofu rather than chicken if you wanted to make it veggie.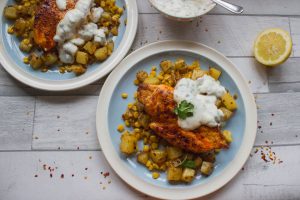 The smokiness of the chipotle is so good with the sweetness of the sweetcorn, it would be great with a few peas too I think. I love how the golden strands of onion become entwined with the cubes of potato. The chicken is succulent and the yoghurt takes the heat off the chilli. All in all, for a few ingredients I already had and threw together, this was a delicious dinner!