Sometimes things look tastier than they are and I often find that the reverse is also true. This harissa roasted squash and red rice looks ok, if slightly on the orange side, but trust me when I say it is delicious. Full of colour and flavour, the slight spiciness from the harissa works wonders with the sweet butternut squash. Red rice does take longer to cook than white rice but its nutty wholesomeness is well worth the wait. Bung this oven, sit back and get ready for a taste of autumn; it's ready faster than you'd think.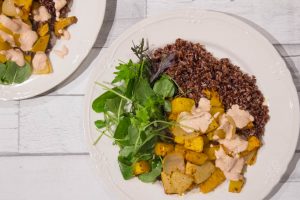 Ingredients
You will need (for two):
1 small butternut (or other) squash, seeds removed, peeled and roughly diced
1 onion, peeled and roughly chopped
1 tbsp Harissa paste
1 tbsp rapeseed oil
Salt and pepper
4 tbsp yoghurt (use non dairy yoghurt to make it vegan)
1/2 tsp smoked paprika
Salt and pepper
Red rice
Salad
Method
Start by getting an oven preheating to 180C.
Mix together the squash, onion, harissa paste, oil and seasoning in a bowl. Make sure everything is well coated in the harissa. If you like it hotter you can always add more harissa. Tip the mixture onto a baking tray trying to get everything on a single layer.
Bake the squash and onions in the oven for 30-40 minutes or until the squash is soft and starting to turn golden.
While the squash is baking cook the rice according to packet instructions; it normally takes 25-30 minutes.
Stir together the yoghurt, paprika and a little salt and pepper.
Serve the squash up with the rice and salad and dollop the smoky paprika yoghurt over the top.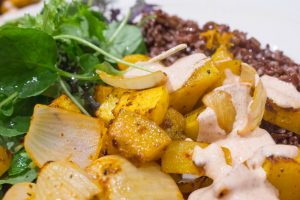 I was really surprised how much oomph the paprika yoghurt brought to the whole dish; it was a great cooling contrast to the hot harissa and it married the veg, rice and salad together so well. The harissa roasted squash was really punchy and the salad fresh and crisp. There are lots of different harissa pastes out there, some are much better than others, so keep trying them until you find one that you like. Wonderfully orange this meal almost glows from the plate, tremendously healthy and filling and ready in under 45 minutes. That's the kind of weeknight cooking I'm after.