The weather has certainly changed, although I do consider November to technically be in autumn things have started to get much wintrier. With ice in the mornings, digging scarves and hats out of the drawers and the fire blazing it's definitely the time of year for soup. The more filling and comforting the soup the better and my autumn vegetable minestrone is exactly that; a restorative bowl of loveliness. Filled with six different vegetables including beans to bulk it all out it's simple, speedy, cheap and delicious.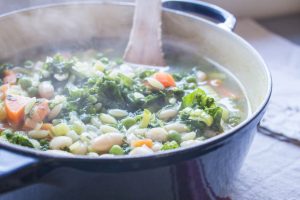 Ingredients
You will need (for four hearty bowls):
1 large leek, ends removed, sliced £0.25
3 carrots, peeled and sliced or diced £0.25
2 garlic cloves, peeled and sliced £0.05
2 tbsp olive oil £0.10
1 large handful kale, shredded £0.30
1 mug frozen peas £0.15
2 nuggets frozen chopped spinach £0.15
1 litre hot vegetable stock £0.20
100g orzo (or other small) pasta £0.20
1 tin cannellini beans, drained and rinsed £0.55
Salt and pepper £0.02
Total £2.22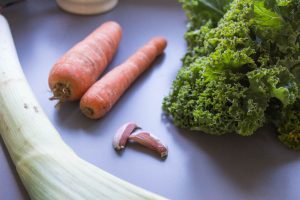 Method
Start by getting a large lidded saucepan on a low heat. Add the leek, carrots and garlic along with the oil to the pan and cook on a low-medium heat. Cook with the lid on, stirring from time to time, for 10 minutes.
Increase the heat of the pan slightly and add the kale, frozen peas and spinach. Leave for a minute or two to bring the pan back up to temperature before pouring in the hot stock.
Bring the pan to the boil then add the orzo. Reduce the heat to simmer and cook for six minutes.
Add the beans to the pan along with some salt and pepper and cook for four minutes more.
Check the seasoning before serving.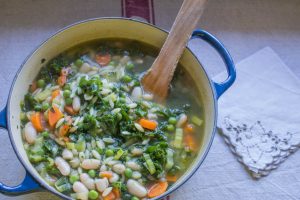 I love that this minestrone is so full of veg and is really substantial and hearty too. The pasta and cannellini beans really fill you up and because it's not blended each of the vegetables retains its own texture and flavour. This recipe is a great way of using up all those autumn vegetables in the fridge; you could add diced tomato or pepper for a beautiful hit of red too. It freezes really well so it's ideal for a bit of batch cooking and when it comes to summer, there's a delicious summer version to try too!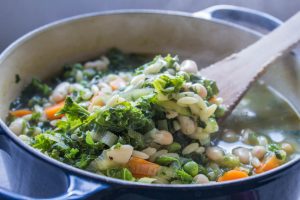 P.S. If you haven't discovered frozen chopped spinach yet it's a great freezer staple. I chuck a couple of the nuggets in all sorts of food for extra veg; so convenient!