This slow cooked lamb curry came about because I decided I was the proud owner of far too many spices. I hope it's not just me that has drawers, jars and bags full of various spices. They were of course all originally bought for a specific recipe but some of them get used less often than others; I use a lot of paprika and cumin but not so much caraway or allspice. I've got three different types of dried chilli hanging around (ancho, chipotle, kashmiri) and pretty much every spice and spice blend imaginable. And I am committed to using them up. A great big curry or chilli is one way, marinades and rubs are another, soups, baking and all sorts. Watch out spice cupboard, I'm planning on emptying you out.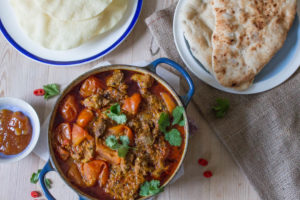 Ingredients
You will need (for four big portions, or six with plenty of sides):
For the marinade
1kg diced lamb, any large pieces of fat removed (I used shoulder but leg or neck would be good too)
2 tbsp cumin seeds
1 tbsp cardamom pods
Salt and pepper
2 tsp turmeric
4 cloves garlic, crushed
Thumb sized piece ginger, very finely chopped
4 tbsp natural yoghurt
Method
Prepare the marinade the night before. Toast the cumin and coriander in a dry frying pan until smelling fragrant. Tip into a pestle and mortar. Dry frying spices not only makes them taste lovely but makes it so much easier to grind them up.
Remove the seeds from the cardamom pods (a lot easier if you crush the pods) and add to the mortar with a good pinch of salt and pepper. Grind the spices up well then pour into a large bowl. Add the turmeric, garlic, ginger and yoghurt and mix everything together.
Add the lamb and stir well to ensure it's coated then cover and place in the fridge overnight.
For the curry
3 onions, roughly chopped
1 pepper, roughly chopped
2 chillies, roughly chopped
4 cloves
2 tsp paprika (not smoked)
1 tsp ground cinnamon
1 tbsp butter and 2 tbsp rapeseed oil
Large pinch dried fenugreek leaves
6 large ripe tomatoes, roughly chopped
200ml water
2 tsp garam masala
Fresh coriander
Salt and pepper
Get a large pan on a medium heat.
In a food processor blend the onions, pepper and chillies until everything is finely chopped.
Preheat an oven to 170C.
Heat the oil in the pan and add the cinnamon and paprika, pinch the tops off the cloves and crush between your fingers into the pan. Stir for a minute or two then add the butter, blended vegetable mix and the fenugreek.
Fry for around five minutes then increase the heat. Add the lamb, with any leftover marinade, and fry for five minutes. Stir from time to time to ensure the lamb gets browned.
Add the garam masala, tomatoes and water. Bring the pan to the boil then pop a lid on and cook in the oven for three hours.
Serve with some fresh coriander, naan bread, poppadoms, chutneys, salad, rice or whatever you fancy.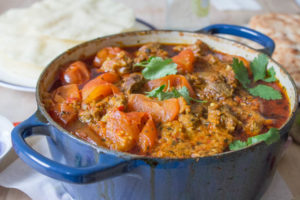 I served this piled up high in bowls so we could dunk some naan bread in and get a big scoop of everything. It was like a big, warm, well spiced hug. We kept one half for leftovers to have the following day with some rice and crisp lettuce, if anything it was even better. Lamb can be expensive but cooking a curry like this makes the most of every bit of the lamb; some of it falls apart completely and other bits keep their shape, the tomatoes are so juicy and the finely chopped veg give the sauce a great texture. I have made a little dent in my spice stock pile with this and I'll certainly be making it again.