Beetroot can be a bit of a pain in my house, other than putting it in a salad or putting it on the side with something I am sometimes at a loss for what to do with it. When I get a bunch I find the easiest thing to do is to cook it all at the same time then peel it and keep it in the fridge for when I need it. Using the beetroot for a beetroot tzatziki was a great discovery and was so good with the beef koftas and super quick homemade flatbreads.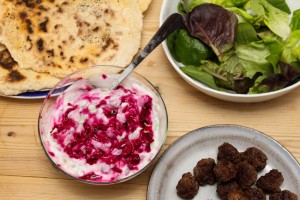 Ingredients
You will need (for two):
For the koftas:
200g beef mince
1 clove garlic
1/2 tsp ground cumin
Salt and pepper
For the beetroot tzatziki:
150g natural yoghurt
2 small beetroot, grated
Juice of half a lemon
2 spring onions, finely sliced
1/2 tsp dried mint
Small handful fresh coriander, roughly chopped
Salt and pepper
For the flatbreads (I've made these Jamie Oliver flatbreads before and they are fab!):
350g self raising flour
Pinch salt
1 tsp baking powder
350g natural yoghurt
Method
Make the beetroot tzatziki by combining all of the ingredients together in a bowl.
Mix the ingredients for the koftas together then form into little balls. Fry these in a little oil until well browned and slightly crispy on the outside.
Make the flatbreads by mixing all the ingredients together and knead it lightly. Divide the mix into balls, I made six with the above mix, and roll them out on a floured surface. Get a frying pan on a high heat (no oil needed) and add the flatbreads one at a time. Leave each flatbread to go crispy before flipping it over and keep the cooked ones warm while you cook the rest.
Serve the flatbreads, kofta and tzatziki together with some salad and enjoy!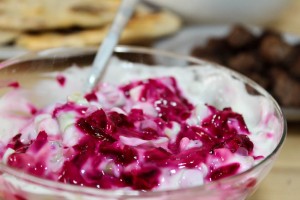 Using just two small beetroot in this left me with a few more to enjoy with other meals in the week. The colour of the tzatziki was fantastic and the texture with the beetroot and spring onions was great. Sticky, garlic koftas with cool beetroot tzatziki and crispy, (on the outside) soft, (in the middle) warm flatbreads all worked together so well. A brilliant use for beetroot if I do say so myself and a dinner I'll certainly be making again.