Beetroot has to be one of my favourite root vegetables. I love all the different colours you can get and a recent addition to my veg box was a bunch of golden beetroot. At first I thought about boiling it and mixing it with white wine vinegar and some spices. Then I got to thinking about proper comfort food and a golden beetroot remoulade would be the perfect finishing touch to a rather traditional dinner. A fantastically earthy alternative to using celeriac.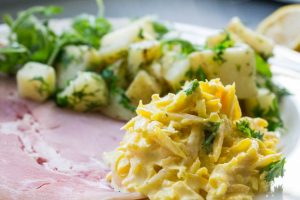 ingredients
You will need (for a good bowlful of remoulade, enough for dinner and leftovers for the next day):
2-3 medium golden beetroot, peeled and grated
3 heaped tbsp good quality mayonnaise
1 tbsp plain yoghurt
1 tbsp Dijon mustard
Juice 1/2 lemon
Small handful parsley, roughly chopped
Salt and pepper
method
Squeeze any excess moisture from the beetroot. Luckily with golden beetroot there are no purple stains to clean off of your hands and the rest of the kitchen when you're done!
In a bowl mix together the mayonnaise, yoghurt, mustard, lemon juice, parsley and seasoning. Stir everything together well and then add the grated beetroot.
It is important to use a good quality mayonnaise for this for two reasons: firstly, it's the base of the remoulade so you want it to taste excellent and secondly, you want it to be good and thick otherwise your finished remoulade might be a bit runny. No one wants runny remoulade.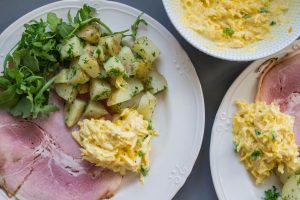 I served my remoulade with some steamed new potatoes which had been covered in butter and fresh herbs, a little rocket salad and some delicious honey roast ham from the local butcher. A little update, or my version of, something that I know my grandparents would enjoy immensely. Simple flavours with a little pepperiness from the rocket, punch from the mustard, sweetness from the beetroot and freshness from the herbs. I can also confirm that beetroot remoulade makes a fantastic addition to a cheese sandwich; preferably one with very strong, crumbly cheddar.