Spices in food have always made me curious. I like all spices, those that I've tried anyway, and a little bit of fresh or dried chilli is always welcome when spices are around. When I've attempted making a spiced dish before it's always lead to interesting results. The ras-el-hanout I add to lamb is great, the fajitas are good but I am normally disappointed if I try to make a curry. The flavour never seems deep enough; too much of one thing and not enough of something else. Manju Malhi asked me to review her Easy Indian Cookbook published by Duncun Baird, so I thought I'd have one last attempt and try out her recipe for Murgh Makhani.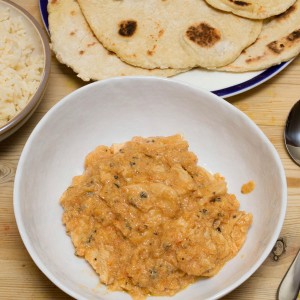 ingredients
The below recipe is from Manju's book with a few of my own tweaks.
For Murgh Makhani for two you will need:
50g peeled plum tomatoes

2 garlic cloves, crushed

1 tbsp. natural yoghurt

1 tbsp. double cream

Black pepper

1/4 tsp paprika

1 small dried chilli, ground

Pinch ground cinnamon

2 tbsp. rapeseed oil

250g chicken breast pieces

1 onion, finely chopped

Salt

1 tsp dried fenugreek leaves

Knob of butter

Pinch garam masala
The below recipe for flatbreads is from Jamie Oliver and it makes fantastic cheat's naan breads!
For 6 cheat's naan breads you will need:
250g self raising flour plus extra for dusting

A pinch of salt

1/2 tbsp. baking powder

250g natural yoghurt
Blend the tomatoes until smooth and put to one side.
Put the chicken into a bowl and add the garlic, yoghurt, cream, a nice helping of black pepper, paprika, chilli, cinnamon and 1 tbsp. of the oil and mix everything together really well. Refrigerate this for at least 30 minutes but ideally overnight.
Put a large frying pan on a medium heat and add the remaining oil. Fry the onions until golden brown then add the salt and dried fenugreek and fry for a few more minutes.
Add the tomatoes to the onions and keep cooking until thickened.
Add a small knob of butter to the pan then add the chicken and all the marinade, reduce the heat to low and simmer for around 10 minutes until the chicken is cooked through.
Add the garam masala and serve with rice and the easy naans.
To make the cheat's naan breads mix together all the ingredients in a bowl until well combined. You might need to add a little extra flour if the mixture is looking a little wet. Put some extra flour onto the worktop and divide the mixture into six.
Get a frying pan on a high heat.
Roll out the dough so it's quite thin and then dry fry the breads until they puff up a little, turn them over and cook until each one is cooked through and has some nice brown patches all over. It takes less than two minutes per flatbread.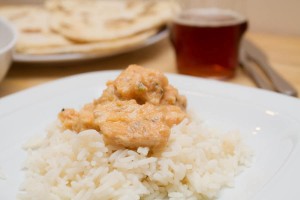 I can safely say, hand down, that this is the best curry I've ever made.  The level of spice and chilli was perfect for me and I loved the creamy taste even though the actual quantity of cream and butter was very small. Guilt free! I think next time I would double the quantity of the sauce for the same amount of chicken. I really like this book, the pictures are clean and simple and the recipes easy to follow. The recipes are certainly a step up from other 'easy' recipes (which are only easy because they require you to open a jar of paste) but you're not cooking and preparing for hours either. There's a good balance between meat, fish and vegetable curries too. I will definitely be cooking from this book again; the only problem being which recipe to choose!
Thank you to Manju for the book and for permission to print one of her lovely recipes.