Beetroot is one of my favourite vegetables; it's sweet, earthy flavour is like nothing else. I like to roast it with other root veg, boil it and add a little rich balsamic vinegar for a simple side or salad and I have tried smoking it on the barbecue in the past too. This latest batch of beetroot however I decided should be turned into a beetroot and feta dip. Firstly because the colour would be glorious and secondly because I wanted something punchy and full of flavour to serve with some delicious sourdough.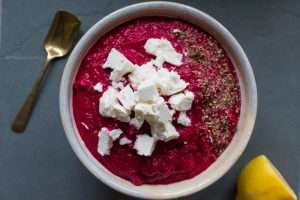 ingredients
You will need (for a big bowl of dip):
4 medium/large beetroot
200g feta cheese
1 garlic clove, peeled and crushed
1/2 tbsp dried oregano
1 tbsp balsamic vinegar
2 tbsp extra virgin olive oil
Juice 1/2 a lemon
Salt and pepper
method
Start by cooking the beetroot. Chop off most of the stalks on each beetroot leaving an inch or two still attached (this helps to stop too much colour bleeding out while they cook). Place all the beetroot into a saucepan filled with enough cold water to cover the beetroot.
Put the pan on the hob and bring to the boil, then reduce to a simmer and leave the beetroot to cook for half an hour to an hour depending on the size of the beetroot. Test them with a knife to ensure they are cooked through before draining.
Leave the beetroot to cool; you can run them under cold water to speed this up. Peel the beetroot. You can use a vegetable peeler but I find it much quicker and easier to simply wipe the skins off with my hands. It's an extremely satisfying thing to do but you do get very pink hands!
Roughly chop the beetroot and add to a food processor and add all the other ingredients, reserve a little feta for the top. Blend everything together to make the dip; you can go until completely smooth or a little chunky, whichever you prefer.
Tip the beetroot dip into a bowl and top with the remaining feta and a little sprinkle of extra oregano too.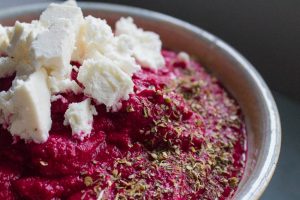 I think the colour of this is spectacular, just what you need on an overcast day to cheer you up. The sweetness of the beetroot and the saltiness of the feta work so well together and the lemon and balsamic vinegar add a little sharpness too. Using dried oregano gives the dip a good hit of herbal flavour and you could certainly try using fresh if you have some. Next time I think I would add a little toasted cumin or maybe a spoonful of horseradish. Serve as a side or, as I did, eat half a loaf of sourdough and dunk away.
Pin recipe for later!