I sit at home sometimes, nothing unusual there, and things pop into my head and then I can't get them out. If I have a hankering for a particular food, place to go or thing to do nothing else will suffice until I lay my hands on that thing. One evening last week I really needed some chocolate. I didn't want wishy washy unsatisfying chocolate I wanted full on, one slice is enough, complete chocolate indulgence. The kind where you feel like you have a chocolate hangover when you're halfway through the first bite. My dark chocolate, orange and hazelnut brownies were created out of desire and the need to use up some hazelnuts in the back of the cupboard. I've been practising my brownie recipe for some years now so I thought I'd try a variation on my plain recipe.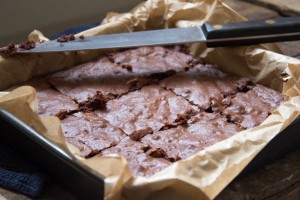 Ingredients
You will need (for nine brownies):
100g salted butter

180g golden caster sugar

70g light muscovado sugar

120g dark chocolate with orange (the stuff I used had caramelised orange peel in)

1 tbsp golden syrup

2 eggs

Splash vanilla extract

100g plain flour

2 1/2 tbsp cocoa powder

1/2 tsp baking powder

50g roughly chopped hazelnuts (mine were blanched)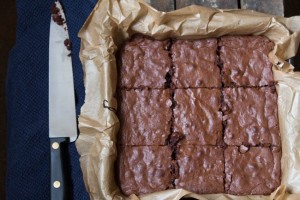 Method
Line a (roughly) 20cm square baking tin with greaseproof paper. You could grease the tin but anything for a life of easier washing up.
Melt the butter, sugars, chocolate and golden syrup together in a pan over a low heat until melted and well combined. Remove from the heat and leave to cool.
Beat the eggs and vanilla extract together then whisk in the cooled chocolate mixture.
Mix the flour, baking powder and cocoa powder together then fold this into the chocolate mix. Gently mix in the hazelnuts.
Pour the brownie mix into the tin then bake in a preheated oven at 180C for 25-30 minutes.
Mark into pieces while still hot.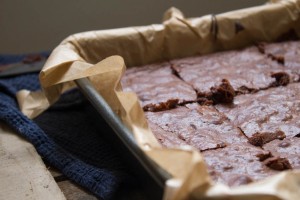 I think everyone likes their brownies differently; some prefer them cakier, some want them still gooey and others will have them like fudge. The thing I like about this recipe is the corner pieces are cakier than the edge pieces which are fudgier and the (best) centre brownie which is still slightly liquid. The middle piece is my favourite and I try to take it out when it's fresh from the oven to enjoy hot. This of course is somewhat awkward as you need all manner of kitchen implements to try and extract it; it's like culinary Operation but well worth the effort. The chocolate is just intense enough, the orange is more of a whisper and the hazelnuts add a welcome texture. Exactly what I wanted.