Carrots seem to be in my fridge no matter what time of year it is. Earlier in the year and around this time they are skinny spring carrots bought or delivered with their huge green fronds still attached. In the autumn and winter months they are the sturdier, larger carrots which are essential for roasting, stewing and making into a hot soup. I do sometimes find myself at a loss for what to do with spring carrots; other than nibbling on them as they are or serving simply with butter. I needed to find something new to try, something to cut through but complement their sweetness: a recipe for spring carrots with crème fraîche and herbs.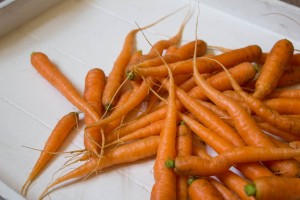 Ingredients
You will need (as a side dish for two):
1 small bunch spring carrots

3-4 spring onions

Few sprigs fresh oregano, dill and parsley

Olive oil for cooking

Juice 1/2 lemon

100ml crème fraîche

Salt and pepper
Method
Scrub the carrots. Bring a large pan of salted water to the boil and add the carrots. Boil for around 10 minutes or until soft but still with a little bite.
While the carrots are cooking, slice the spring onions finely and then gently fry in a small frying pan in a little olive oil until softened but not brown.
Drain the carrots and put to one side.
Add the lemon juice, herbs and salt and pepper to the spring onions, keeping it on a low heat, then mix in the crème fraîche. Allow it to warm through a little.
Mix the crème fraîche and herbs into the carrots and serve.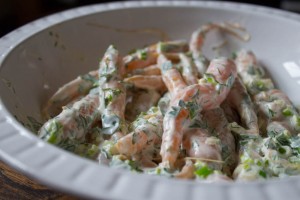 This is perhaps a little more effort than I would normally go to for a side dish. I had these alongside some leftover risotto and the sweet sharpness worked really well against the stodgy risotto. The sweet carrots are so full of flavour, the lemon juice and crème fraîche add acidity, the hum of spring onions in the background and the characteristic herbs all round this off into one very wonderful side dish. It was actually better than my leftover risotto! This was one of the dishes I recently demonstrated at Eat Reading, the other one I did will be up soon.