If you're sat there looking at your kohlrabi wondering why on earth you've been sent a vegetable that has tentacles, fear not. I've been getting an organic veg box for years and I wanted to share some of my favourite vegetable box recipes. Sometimes you can end up with a vegetable you've never cooked with before so hopefully you can find a recipe for almost everything here! In this post I'll take you through the contents of my most recent veg box and how I used everything up.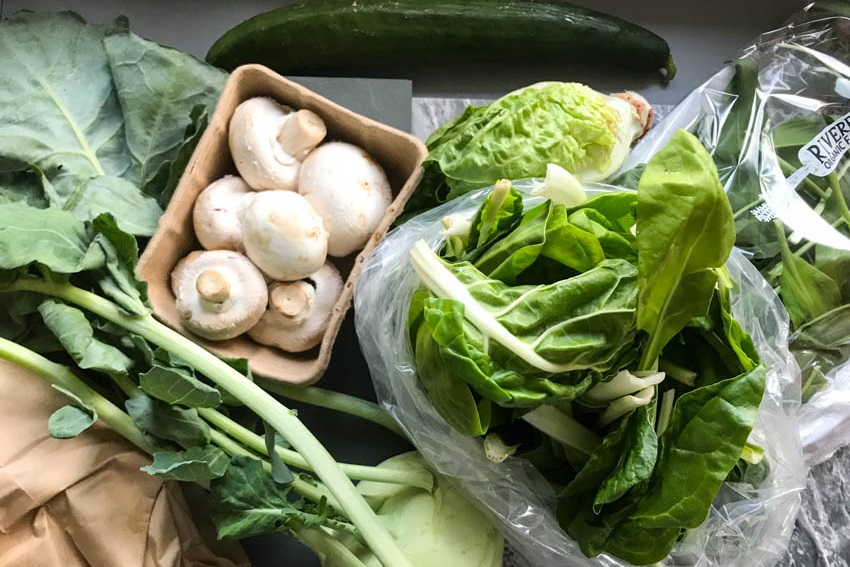 The veg box contained:
Potatoes
Kohlrabi
Mushrooms
Cucumber
Lettuce
Swiss chard
Wild garlic
Potatoes
Not something that I find too difficult to use up I added one to some wild garlic bread I made (more on that later), diced a few up and added them to a vegetable curry and then used the remainder to make some mashed potato to have with some freezer leftovers. If you're stuck for ideas I've got plenty of potato recipes including this Chipotle and Sweetcorn Hash.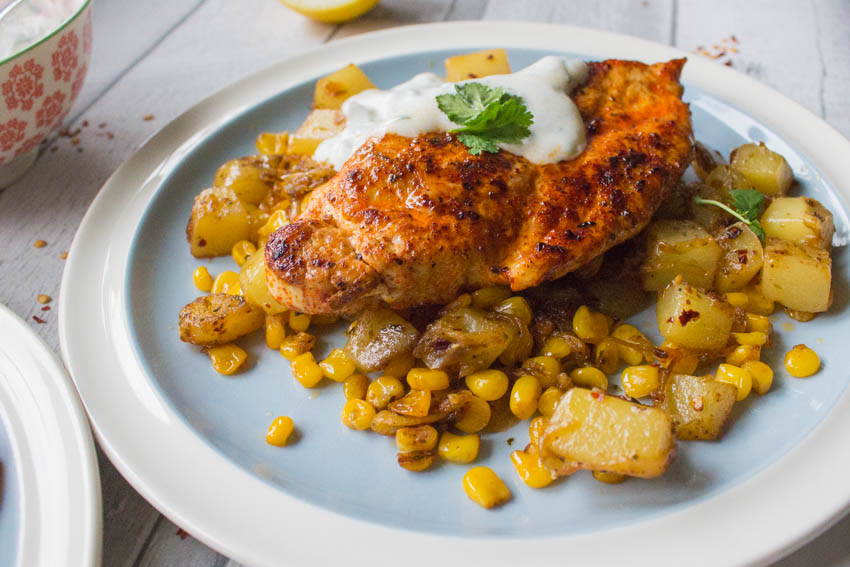 Kohlrabi
Kohlrabi doesn't really look like anything else. The flesh has a similar texture to an apple (but it doesn't have pips) and tastes like radish. You can use the whole vegetable from the leaves to the base. I like to grate mine raw into a quick coleslaw (see below) or add the stalks and leaves to a stir fry. You can find extra kohlrabi recipes here.
Kohlrabi Coleslaw
You will need (enough for two with leftovers):
1/4 kohlrabi, peeled
1 carrot, peeled
1/4 red onion, peeled and finely diced
Mayonnaise
Juice 1/2 lemon
Salt and pepper
Grate the carrot and kohlrabi and squeeze out any excess juice then add to a bowl with the onion.
Add the lemon juice and then stir through the mayonnaise a bit at a time until everything is just covered.
Stir through some salt and pepper and enjoy.
Sometimes I like to add a pinch of celery salt, or some fresh herbs, or a dash of mustard.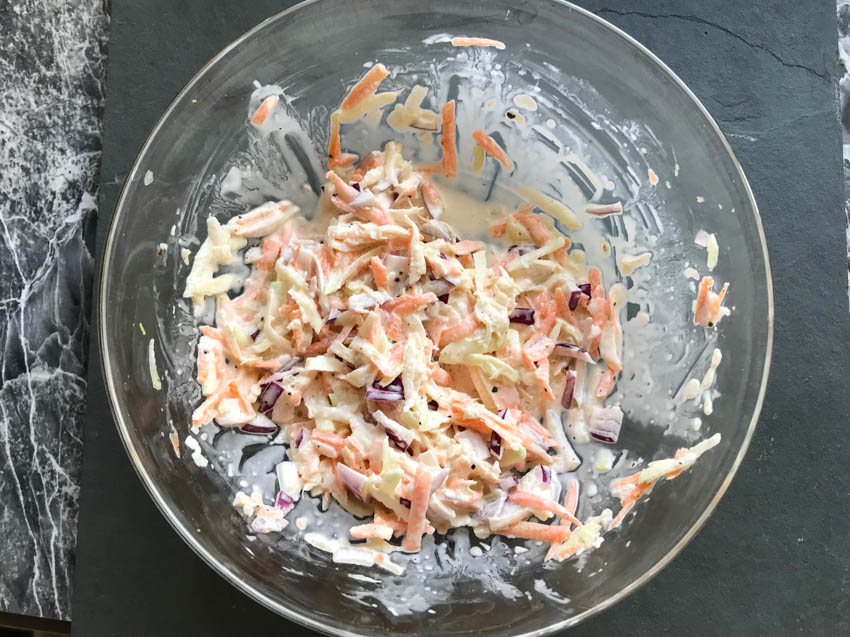 Mushrooms
Often in our house mushrooms get fried in butter and popped on top of toast, but not always. This time I made a cracking Kung Pao stir fry which included the mushrooms. I really like mushrooms in a curry, as per my crispy paneer and mushrooms below and I've got lots of other mushroom recipes for you to try!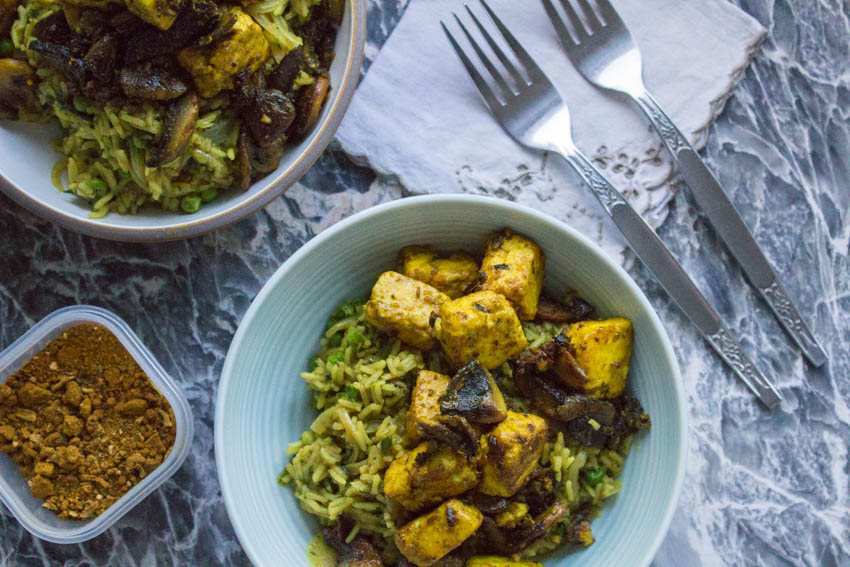 Cucumber and Lettuce
As we've had such nice weather this past few weeks I've been adding a bit of lettuce and cucumber in salads to almost every meal. Whether they're added to a flatbread with some spicy falafel or served on the side with a pizza a simple dressing with olive oil and vinegar is all I tend to add. You can see all my recipes with cucumber and lettuce here. One of my particular favourite ways to serve cucumber is in a quick mustard pickle.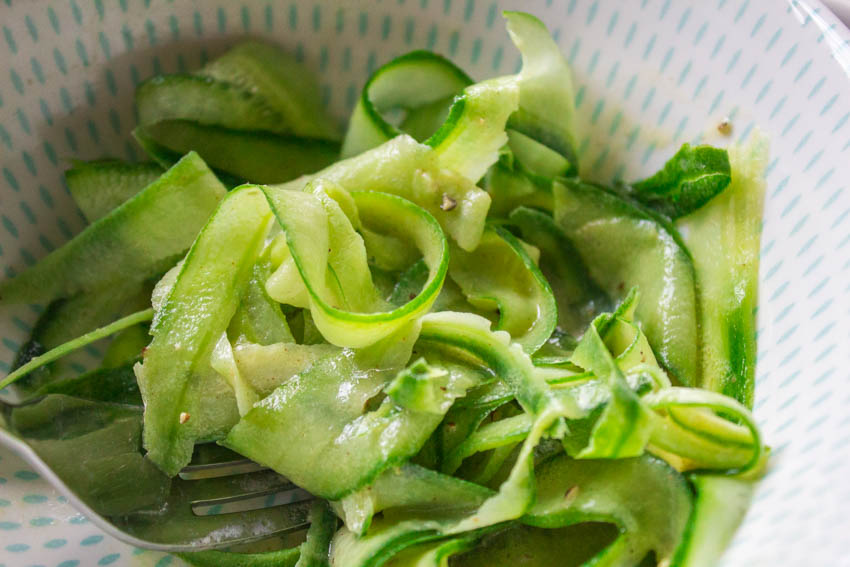 Chard
Chard is a member of the beetroot family except that it's grown for its leaves rather than its root. I love the earthy flavour of the stalks and leaves and it's delicious in all sorts of dishes. When you're dealing with chard it is always worth separating the leaves from the stalks and cooking the stalks for a little longer than the leaves.
This time round I added the chard to a stir fry with some kohlrabi (again I'll be sharing the recipe soon) and made a pasta sauce with chard and smoked bacon based on my open lasagne below. There's plenty more chard recipes where they came from!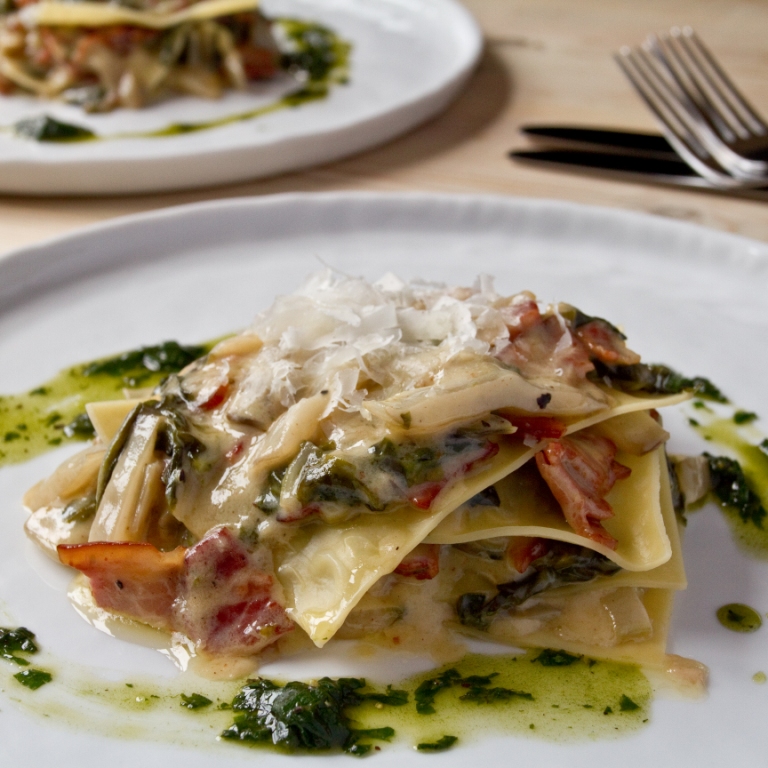 Wild Garlic
It's not around for a long time each year so if you can get your hands on some then enjoy it while you can! Other than shredding a few leaves into stir fries and salads I made a fantastic wild garlic and goat's cheese loaf, which also used one of my potatoes, and I used Delia's recipe. Instead of the thyme I added some wild garlic. It's really quick to make, there's no proving or knocking back to do and it was so good. I've got more ideas for wild garlic too!