I think everyone has a particular vegetable that they always end up cooking the same way.
I simply couldn't have another plate of steamed or stir fried chard so I put my thinking cap on and set about making a chard and bacon lasagne. I also realised maybe chard isn't the only vegetable I haven't paid much attention to.
Whenever I have leeks around they normally end up in a slow cooked pork stew; namely because I don't really like leeks and I can't taste them as much this way. Courgettes are another example (and I'm sure the bane of many vegetable gardeners' lives) and they almost always end up as fritters. To avoid characterless chard this simple open lasagne is perfect.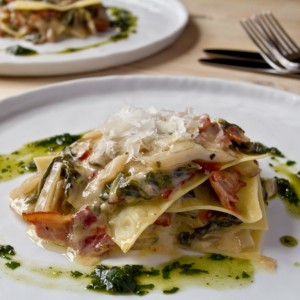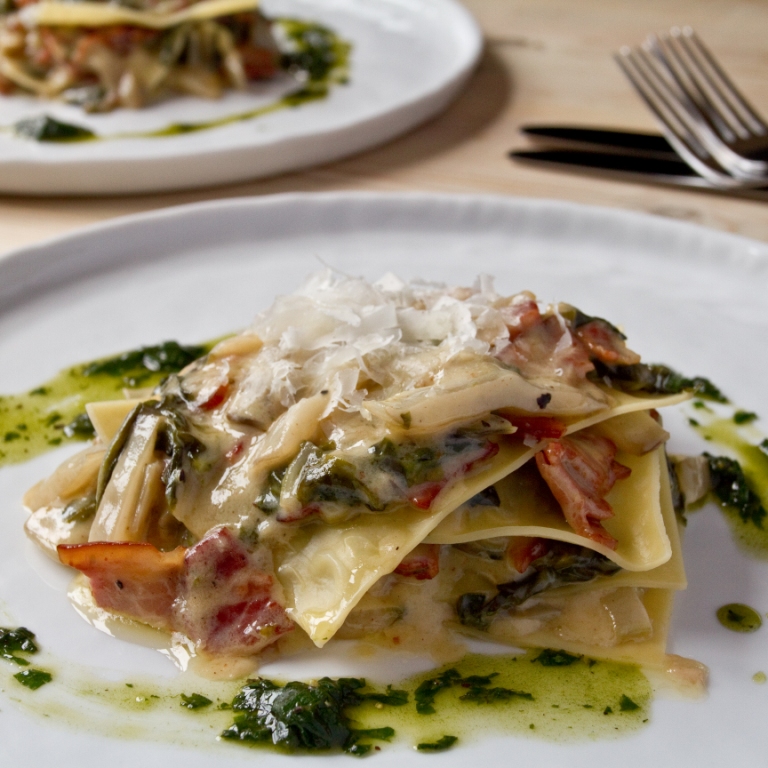 Ingredients
You will need (for two):
8-10 rashers smoked streaky bacon

1 head chard

2 large garlic cloves

250ml crème

fraîche

Salt and pepper

3 sheets fresh lasagne

Small handful basil

Extra virgin olive oil

Small handful Parmesan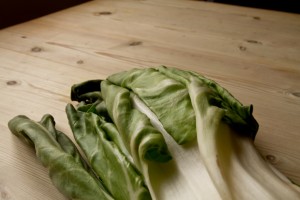 Method
Start by cutting the bacon into small strips and put into a frying pan with a little oil. Get the bacon frying while you prepare the chard.
Strip the chard leaves away from the stalks and put in to two separate piles. Slice the chard stalks to roughly the same size as the bacon and shred the leaves.
When the bacon is turning golden brown add the chard stalks to the pan and fry for a few minutes until the stalks have softened. Crush in the garlic and then add the chard leaves. Fry for another minute or so until the leaves have started to wilt and then add the crème fraîche, plenty of pepper and a little salt. Keep cooking this, stirring occasionally, until you have a thick sauce.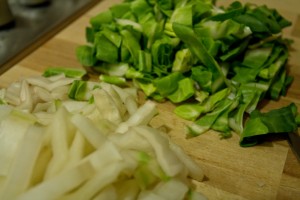 While the sauce thickens get a pan of salted water on to boil.
Cut the lasagne sheets in to squares (you should get four squares from each) so you end up with twelve squares.
When the water is boiling add the squares of lasagne and cook for around three minutes or according to the packet. You want to add the lasagne in single layers so that they don't stick together so you might need to do it in batches. Remove and keep warm when cooked.
Mash the basil in a pestle and mortar until it's almost a paste then add some salt and pepper and drizzle in some olive oil until it's about 50:50 basil to oil.
To assemble the dish put a square of lasagne on a plate then spoon the chard mix on top layering up and alternating between lasagne and chard. Finish by sprinkling over the Parmesan and basil oil.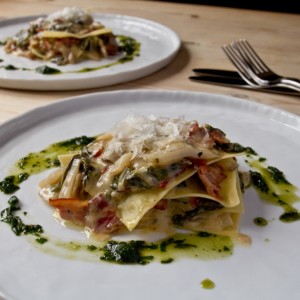 This chard and bacon lasagne is such a quick dinner to make but I think it looks like it takes an age. It is so full of flavour and different textures it's a great way to use the chard. I'm sure this would work in a more traditional lasagne format but I like the openness of this pasta dish as I've never made anything like it before. Crème fraîche works particularly well with this as cream would be too heavy and the fragrant basil oil rounds it all off nicely. If only I could think of something like this for that pesky swede that has been hanging round at the back of the fridge.