I remember the first time I tried Kung Pao chicken and how much I loved the numbing sensation you get on your tongue from the Szechuan pepper. In order to use up more of the vegetables from my veg box I made my version of Kung Pao chicken with mushrooms. This is definitely not a traditional Kung Pao chicken recipe, it doesn't even have peanuts, but this version in particular is known in our house as: the best stir fry you've ever made. High praise indeed.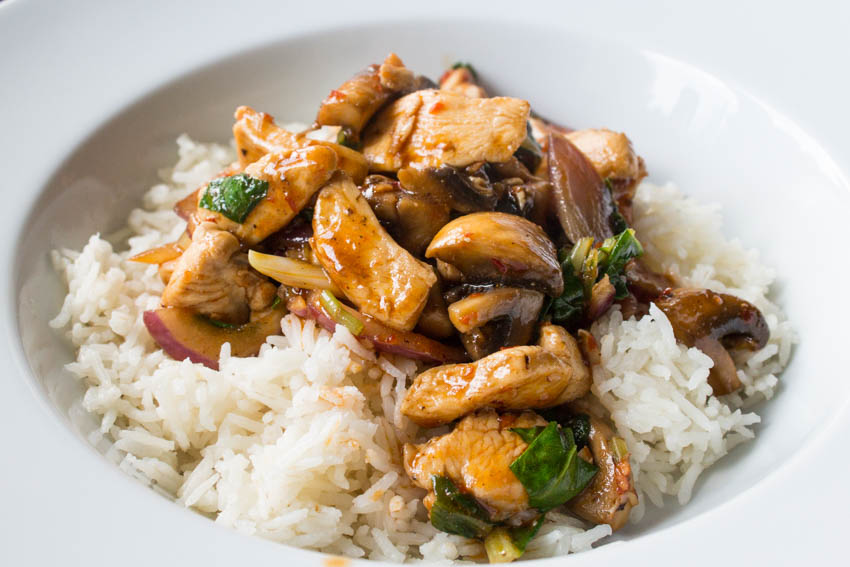 Ingredients
You will need (for two portions):
Rapeseed or vegetable oil for frying
1 small chicken breast, diced
1 small red onion, peeled and sliced
Handful mushrooms, quartered or halved depending on the size
1/4 kohlrabi, peeled into strips (use a vegetable peeler)
5-6 big chard leaves, stalks removed and chopped, leaves shredded
Kung Pao sauce*
Rice to serve
* I have used a readymade sauce for this recipe, but I have made the sauce from scratch myself using this recipe. It just takes a little longer to make.
Method
It is important that you have everything ready before you start cooking as it takes less than 10 minutes once you begin.
Heat a good glug of oil in a wok or large frying pan and get it on a medium to high heat. Add the chicken and fry for 5-10 minutes or until lightly golden and cooked through. You'll need to stir it often. Remove the chicken from the pan and put to one side.
Add a little more oil to the pan if needed and increase the heat to high. Add all the vegetables and fry for a few minutes. I like to leave mine to catch slightly at the bottom as I think it gives a fantastic charred flavour.
Return the chicken to the pan and add two tablespoons of water to loosen everything up a little. Reduce the heat slightly.
Add the sauce to the pan and stir everything together well. You want everything nicely coated in sauce.
Serve up with rice, it also works well with noodles, and tuck in.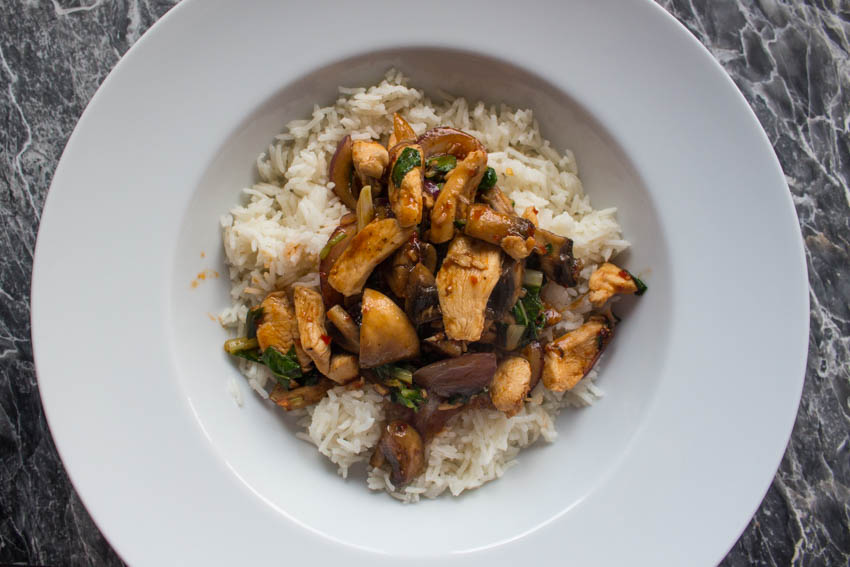 Just writing about it now I can't wait to have my Kung Pao chicken with mushrooms again! The mushrooms really were the star of this dish; they were so savoury and the quick frying method gives them a fantastic texture. As the kohlrabi is added as thin peelings it almost dissolves into everything else. The chard brings a wonderful green earthiness and I could have happily eaten a double portion of this deliciously spicy stir fry.