At this time of year I get all the spices out of the cupboard and start to use those that I forgot about over the summer months. I found a tub of my homemade keema spice mix and although I know it's delicious with lamb I wanted to try and make a veggie version. After trying out a few different vegetables and quantities I decided that I like this version of my vegetable keema rice the best. Not only is it easy and filling, it's also got four different veg in and loads of texture from that crispy paneer.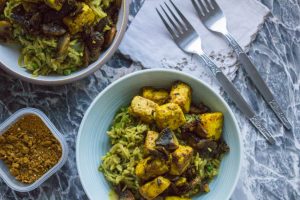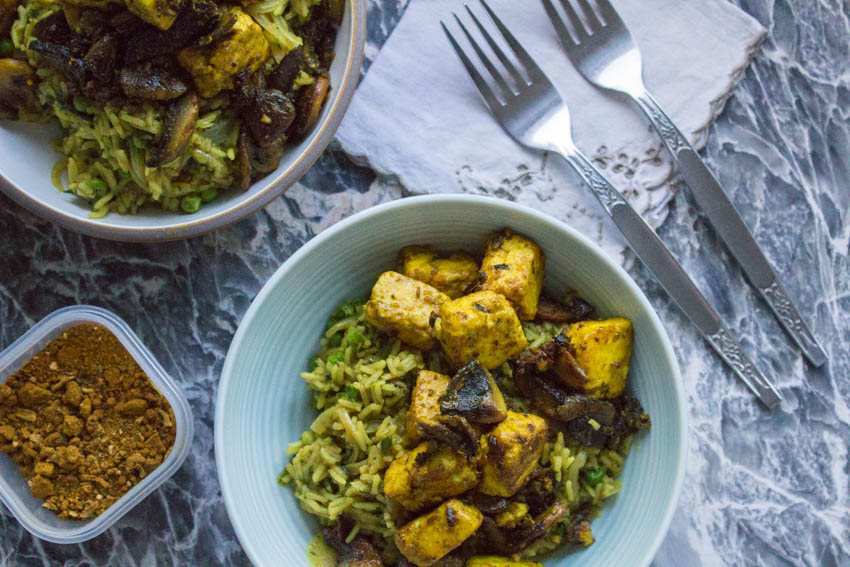 ingredients
You will need (for two):
Rapeseed oil for cooking
1 onion, sliced
2 garlic cloves, crushed
2 dsp keema spice mix
125g basmati rice
300ml water
2 nuggets frozen spinach (about the same as 4-6 tbsp blanched and chopped fresh spinach)
1/2 mug frozen peas
Salt
For the crispy paneer:
Rapeseed oil for cooking
1 heaped tsp turmeric
1 tsp cumin seeds
Handful mushrooms, sliced
225g paneer cheese
Salt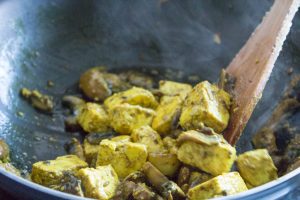 method
Heat a little oil in a lidded saucepan on a medium heat and add the onion. Fry for around 10 minutes or so until it's starting to turn golden brown.
Add the garlic and the keema spices to the pan and cook for another minute or two.
Stir the rice into the pan so it gets all coated with the spices then pour in the water with a little salt. Pop a lid on the pan and leave for 12-15 minutes.
After this add the peas and spinach to the rice, stir the pan and then pop the lid back on and leave for another 8-10 minutes.
Test the rice to ensure it is cooked, all the water should have been absorbed by the rice, and add a little more salt if needed.
While the rice cooks you can get on with the crispy paneer. Start by heating a little oil in a non-stick frying pan on a medium/high heat. Add the turmeric and cumin and cook for a few minutes until smelling fragrant.
Tip the mushrooms and paneer into the spices and fry for 5-10 minutes, stirring regularly, until the mushrooms are soft and turning golden and the paneer is crispy on the edges. Add a little salt and check the seasoning.
Serve up the vegetable keema rice with the crispy paneer and mushrooms on top.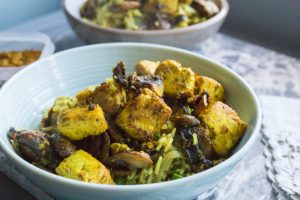 I really like the combination of veg in this meal. You've got sweetness from the onion and peas, a slight earthiness from the spinach and a rich mushroom flavour. By using a spice mix that you've already made (and which you can alter to suit your taste) means most of the hard work is already done and you can just sprinkle in those flavours! The crispy paneer is a fantastic way to add texture and it would be delicious to use some marinated paneer if you fancied.